How to Get a Raise: Salary Negotiation Tips for Women Attorneys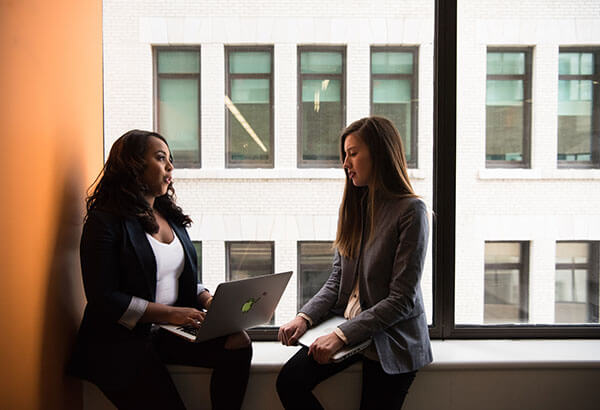 It's no secret that women's pay lags behind men's in the legal profession. This disparity exists even when you compare law firms of the same size and practice area in the same geographic location. There are many factors at play, from the persistent belief that women are less likely to be supporting families to unconscious biases that lead managers to value their female employees' work product less favorably. The pandemic has only exacerbated the problem. Traditional networking arenas such as the golf course or happy hours have been historically gendered male, which means women are walking into salary negotiations without knowing what their male peers are making. This also creates a resource gap: if women are not in the room when their peers are sharing business connections and client leads, they can't tap into that network for information and resources.
If you are a woman attorney feeling underpaid, what can you do? These seven strategies will help you prepare for success in salary negotiations at a new firm or in your current position.
Recognize "second generation" gender bias. We think of gender bias as being external, but it can also play out when women internalize the idea that women are nicer and less aggressive, so they don't advocate for themselves. Examine your inner narrative

—

what is holding you back from asking for more?
Hack your own goodwill. Studies show that women are more willing to advocate for others than for themselves. Trick your brain

—

tell yourself that you are asking for a raise on behalf of a friend or loved one.
Ask for more - every time. Studies show that men are more likely to negotiate an initial offer, which means that a male and female attorney in the same firm, who received the same offer, may nonetheless be starting out on unequal footing. When raises are offered, this dynamic repeats, so the disparity gets worse every year. Don't let a year go by without asking for a raise.
Do a competitive analysis. Identify similar companies, in your area or similar areas, by size, and by practice area. Present this information to your manager objectively, but hold firm for what you deserve. Glassdoor is your friend!
Internalize a leadership identity. Law firms want to see you taking charge. Get people together for an informal lunch to discuss issues in your firm. Start a committee to address an issue. Convene a meeting to revive a dormant project. Act purposefully towards an end goal with a clear benefit greater than yourself

—

and then document your successes to share during negotiations.
Make the business case for yourself. Your manager wants to do the best for the business, which means you need to convince them that what you are asking for will benefit the firm. Identify the actions you have taken that have supported business growth, such as increasing efficiency in workflows or bringing in new clients.

Make sure you have an accurate assessment of your achievements

—

hours billed, sales generated, hours spent on pro bono work, articles published,

and

number of

speaking engagements

.

Prepare in advance. Marshal all of your information — competitive analysis, your contributions and successes, and what you intend to do in the next year — and put it in writing. You may even want to create a brief memo or slide deck to share with your manager. Putting it in writing will help you feel more confident walking into the room.
At the end of the day, remember: the worst-case scenario is that your request is denied! Although women are socialized to believe that they shouldn't negotiate too hard for fear of seeming overly aggressive, most companies will not penalize you for advocating for yourself. (And if they do, run.)
To learn more, check out Leveling The Playing Field: Addressing Gender Equity and Negotiation Strategies.
The Facts About Gender Pay Gaps in the Legal Profession
When you're anticipating asking for a raise, knowing the statistics can help bolster your confidence.
Recent studies have indicated that women attorneys at the partner level make an average of 44% less than their male peers. The gap narrows somewhat for in-house counsel, with men earning approximately $11,000 more annually. The difference widens again for those holding the general counsel title, and men receive almost $50,000 more in yearly salary.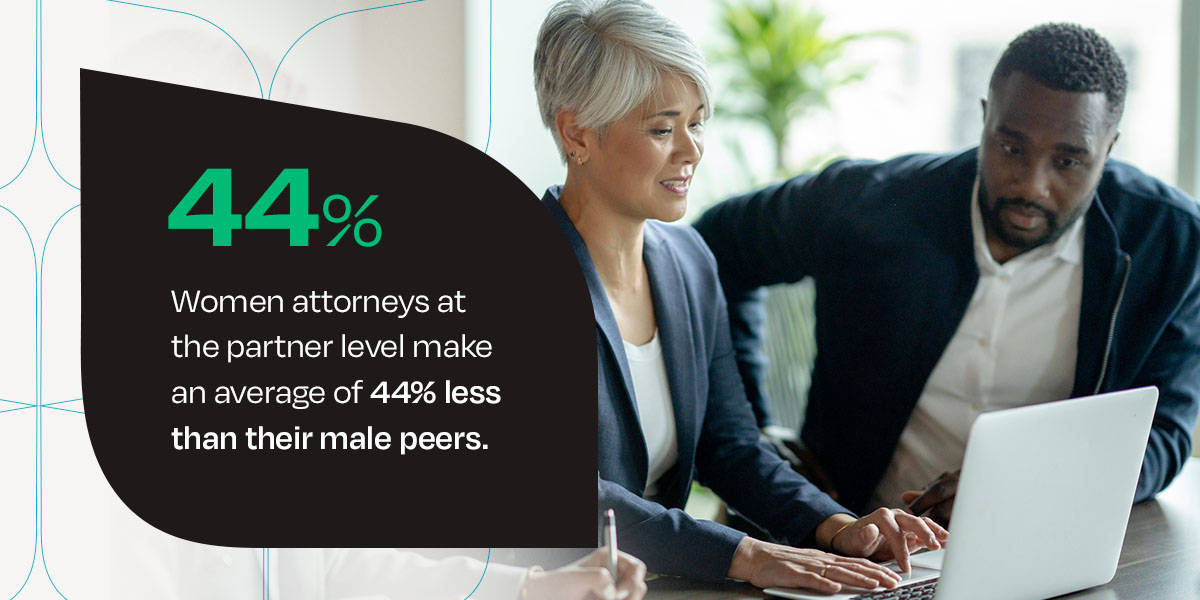 3 Tips to Help Support Your Request
You can take several additional steps to substantiate your request for more compensation and make it more challenging for your employer to decline.
1. Stay Objective With Facts
It can be easy to fall into the trap of supplementing your request with personal justification, but doing so is unlikely to help your case. Your increasing rent or willingness to coordinate teamwork events typically has no direct impact on your employer's bottom line.
Instead, learn what you can do to avoid being labeled the office caretaker. Keep your justification firmly positioned on your revenue-generating impact by retraining your thought processes and the emotional responses your thoughts elicit.
2. Develop Your Skills
One possible factor contributing to pay gaps is an inability to access the same high-profile opportunities. When those assignments go to male counterparts instead, it can be challenging to demonstrate equal financial contributions, which extends the cycle.
Invest in yourself by pursuing enrichment in key areas, such as:
3. Showcase Your Leadership
Learning to advocate for yourself and others through mentoring can also be a powerful self-confidence boost. Share what you know and influence other future leaders by becoming a trusted coach and cheerleader. Becoming a mentor is an excellent opportunity to refine your leadership skills.
As a bonus, the benefits of mentorship can be mutual. You can gain valuable advice, education, and opportunities from your mentee.
Learn More With Lawline
Lawline is committed to helping you reach your career goals with timely and relevant legal education and professional development course that put you in the driver's seat. Our content covers various topics, from technology and ethics to diversity, equality, and inclusion. Our convenient on-demand education allows you to build your skills anywhere and anytime.
Register for a free trial today, or browse our entire catalog of topic categories and live webcasts.
This article was originally published on February 17, 2020
Related Content:
How Can Law Firms Be More Inclusive in a Remote Setting? Five Tips from ABA Powerhouses Paulette Brown, Bobbi Liebenberg, and Stephanie Scharf