Lawline Honored to Be Recognized to Top Three Online CLE Providers by National Law Journal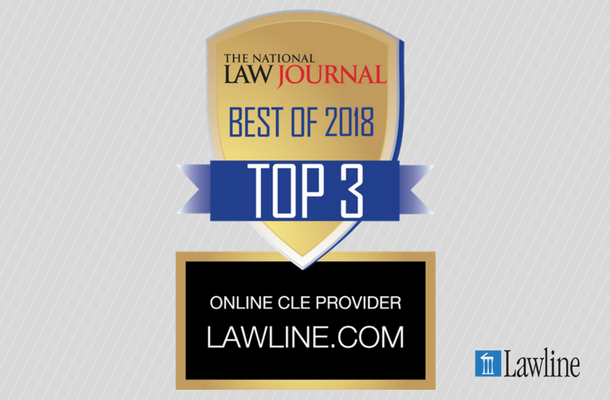 In a press release yesterday, Lawline announced that it was awarded the prestigious honor of being named one of the National Law Journal's Top Three Online Continuing Legal Education (CLE) Providers in the publication's seventh annual "Best Of" survey.
"We are honored by this recognition," said David Schnurman, Lawline's CEO and Founder. "Our team takes pride in producing our extensive catalog of online CLE courses both with and for the best and brightest in the industry," he continued. "We're thrilled to be acknowledged by such a prestigious organization and the legal community at large."
The survey covered 70 categories, including "Best Online CLE Provider," and the Journal received 7,500+ votes from attorneys, corporate counsel, and various legal professionals determining the 2018 winners. Lawline notes the fact that it produces all of its CLE content in its own studio and its quarterly Bridge the Gap events as one of the many reasons attorneys nationwide believe they are a top provider. The company cited the wide range of timely and important programs offered, including fantastic programs such as:
Lawline also offers a unique interactive platform and cutting-edge technology, such as the groundbreaking Universal CLE Tracker, created by an in-house development team. Other benefits cited include the company's award-winning app, exciting new blog, ease of use, and wide breadth of accreditation available.