No Longer Lost: Garcia's Performance in Innocence of Muslims May be Found Again on YouTube
By: Amy Goldsmith
In my May 12, 2015 Lawline presentation regarding Rights of Publicity, we discussed the litigation between actor Cindy Lee Garcia and Google/YouTube involving the film Innocence of Muslims. The dispute arose several years ago, when Cindy Lee Garcia was hired (absent the typical written assignment of copyright) to appear in a film called "Desert Warrior." Five seconds of her performance was converted into a diatribe against the Prophet Mohammed and uploaded by the producer to YouTube. The producer even dubbed over her words: "Is George crazy? Our daughter is but a child?" turned into "Is your Mohammed a child molester?" Millions of view ensued, and Ms. Garcia received death threats. She asked Google to take down the film, citing violations of her right to control her likeness and her right to privacy. Google refused.
After withdrawing her state court action, Garcia filed a federal court action against Google and the producer. The allegation against Google relied on the putative copyright interest, but the claim against the producer included state law violations (fraud, unfair business practices, libel, and intentional infliction of emotional distress). Although the district court refused to issue the requested injunction, a divided 3 judge panel was intrigued by the argument that Ms. Garcia could have a separable copyright interest in her performance and determined that irreparable harm had been proved in the form of the continuing death threats. Regarding the implied license (since there was no written assignment), the panel held that the producer had given Garcia an implied license to perform his screenplay, not that Garcia had granted an implied license to the producer. Accordingly, it issued the injunction as to the entire film (later modified to remove only her performance). Garcia v. Google, Inc., 743 F. 3d 1258, amended by Garcia v. Google, Inc. , 766 F. 3d 929 (9th Cir. 2014). Thereafter, the appeal was argued before the full court.
The Ninth Circuit Court of Appeals, sitting en banc and 10 -1, decided on May 18, 2015 that the prior 3 judge panel was incorrect in enjoining YouTube from displaying the film on the novel grounds of an actor's independent copyright interest in her performance. The panel decision had not evaluated the First Amendment issues in any depth, concluding that free speech doesn't protect copyright infringement.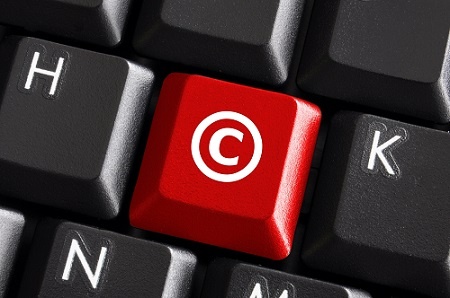 To no one's surprise, many third parties submitted friend of the court submissions regarding the use of copyright law to impose restrictions on freedom of speech. On that point, the Court said, simply: "The panel's takedown order of a film of substantial interest to the public is a classic prior restraint of speech." The full court noted that Ms. Garcia's injunction was based on a copyright claim and not right of privacy, tort, or emotional distress and then, using the abuse of discretion standard, proceeded to review the district court's decision not to enjoin. Garcia, in requesting a mandatory injunction, was required to establish law and facts that "clearly favored" her position. Interestingly, the full court noted that Garcia may have had a defamation claim and a right of publicity claim, and that future plaintiffs in her position could have those claims as well. But on the copyright claim, the Ninth Circuit first looked to the Copyright Act: "copyright protection subsists in original works of authorship fixed in any tangible medium of expression [including] motion pictures…done by or under the authority of the author." 17 USC §102(a).
Garcia was not the author of the motion picture or the script. But was she the author of her own performance?
Prior to the decision, the Copyright Office had answered "no" to that question: "longstanding practices do not allow a copyright claim by an individual actor or actress in this or her performance contained within a motion picture….for copyright registration purposes, a motion picture is a single integrated work………Assuming Ms. Garcia's contribution was limited to her acting performance, we cannot register her performance apart from the motion picture." The Ninth Circuit relied on the Copyright Office and refused to splinter the movie into many different works. The appellate court also noted that Garcia did not fix the performance into a tangible medium; Garcia wasn't the author and thus could not do so. With respect to the implied license from Garcia to the producer, the full court would not find clearly erroneous the district court's determination that the license was not conditioned upon any representations by the producer about the film.
Lastly, although Garcia was undoubtedly harmed, the Copyright Act wasn't the right vehicle to redress those harms: in the Court's view, the protection of privacy is not a function of the copyright law. Nor does the US have moral rights or a "right to be forgotten" law of the type recently enacted in Europe.
Amy Goldsmith is a partner at Tarter Krinsky and Drogin and director and officer of the New York Women's Bar Association. She is also a member of the American Bar Association and the International Trademark Association (INTA) and is on the Board of Directors of Savvy Ladies, a non-profit whose mission is to educate women to be financially savvy.
Share
Author Bio
Written by Sigalle Barness
Sigalle Barness is the Vice President of Content and a member of Lawline.com's Executive Team. Sigalle provides business strategy and leadership to the company and directly manages Lawline's accreditation, programming and production operations. Sigalle also analyzes market trends and applies insights to develop and execute written and video content including online educational programming, email marketing, social media campaigns, press releases, blog articles and large scale live events. Sigalle graduated summa cum laude from Rutgers University and holds a B.A. in English. She received her J.D. in 2010 from Benjamin N. Cardozo School of Law in New York, NY. Sigalle is admitted to practice in both New York and New Jersey. She is also an active member of the Association for Continuing Legal Education (ACLEA), and is the former Chair of ACLEA's Programming Special Interest Group (2013 – 2015) and National Provider Special Interest Group (2015 - 2017). Before joining Lawline in March 2012, Sigalle litigated civil claims in areas such as landlord tenant, breach of contract and tax lien and mortgage foreclosures actions. She also handled transactional matters such as drafting residential and commercial leases, demand letters, and client conflict waivers. Sigalle is an avid lover of music, video games, blogging, asking questions and all things food. She is also fluent in Hebrew and enjoys writing fiction, traveling and scuba diving.
Subscribe to receive Lawline Blog updates
Recent Posts