Trade Dress: A Bite Taken Out of the Apple
Trade Dress: A Bite Taken Out of the Apple by Amy Goldsmith
Apple has been battling Samsung since 2012, asserting claims of utility and design patent infringement and trademark and trade dress infringement. The California jury handed Apple over a billion dollars in damages (later reduced by the lower court to $930 million), agreeing with the allegations of infringement. Samsung appealed, and the Federal Circuit Court of Appeals rendered its decision on May 18, 2015, reversing the jury's verdict on the trademark and trade dress component but affirming the rest (Apple Inc. v. Samsung Electronics Co., Ltd., Case: 14-1335, May 18, 2015).
In my Lawline presentation on May 12, 2015, I stressed the importance of defining the trade dress and in understanding the differences between functional and non-functional features, especially when trade dress is claimed in a product configuration. The functionality of certain features of the iPhone 3G/3GS was the question before the Federal Circuit.
Apple had alleged that Samsung infringed US Trademark Registration No. 3,470,983 and unregistered trade dress, defined as follows:
a rectangular product with four evenly rounded corners;
a flat, clear surface covering the front of the product;
a display screen under the clear surface;
substantial black borders above and below the display screen and narrower black borders on either side of the screen; and
when the device is on, a row of small dots on the display screen, a matrix of colorful square icons with evenly rounded corners within the display screen, and an unchanging bottom dock of colorful square icons with evenly rounded corners set off from the display's other icons.
Apple's non-functionality analysis relied on these Ninth Circuit factors: (1) whether "the design yields a utilitarian advantage, (2) whether alternative designs are available, (3) whether advertising touts the utilitarian advantages of the design, and (4) whether the particular design results from a comparatively simple or inexpensive method of manufacture." Disc Golf Ass'n v. Champion Discs, Inc., 158 F.3d 1002, 1006 (9th Cir. 1998) The Federal Circuit noted that these factors did not include the Supreme Court's more recent reliance on competitive advantage, namely that "a feature is also functional ….when it affects the cost or quality of the device." TrafFix Devices, Inc. v. Mktg. Displays, Inc., 532 U.S. 23, 33 (2001)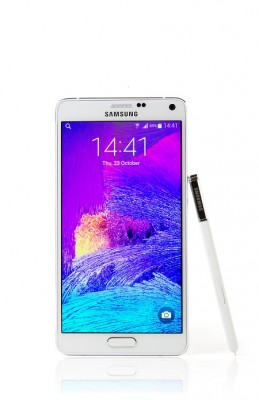 Was there sufficient evidence to support a jury finding in favor of non-functionality on any factor?
The Federal Circuit said "no," first focusing on the Ninth Circuit requirement that in order to establish non-functionality, the product feature must serve no purpose other than identification. Disc Golf, 158 F.3d at 1007. Since Apple's own executives testified that the iPhone was "easy to use," and Apple had conceded during oral argument that the trade dress improved the quality of the iPhone, the Court wasn't persuaded that the iPhone design was solely beautiful. Moreover, Samsung presented reams of evidence showing that the features of the unregistered trade dress were indeed functional:
a rectangular product = maximizes the display that can be accommodated
with four evenly rounded corners = improvements in pocketability and durability
a flat, clear surface covering the front of the product = facilitates touch operation by fingers over a large display
bezel = protects the glass when the iPhone is dropped
borders = sized to accommodate other components while minimizing overall dimensions of the product
row of dots = indicate multiple pages of available app screens
icons = users can differentiate the number of available apps
unchanging icons = quick access to commonly used apps
Next, the Federal Circuit did not find any evidence supporting Apple's contentions that there were available alternative designs which offered exactly the same features, eg, advantages and disadvantages. Apple also failed to convince the Court that its "hero" and 'touching is believing" advertising campaigns did not tout the utilitarian aspects of the iPhone. Lastly, the Court did not find any evidence in the record to support Apple's statement that the iPhone's design features were not relatively simple or inexpensive to manufacture.
In addition to losing on the unregistered trade dress claim, Apple was also unsuccessful with respect to its claim of trademark infringement of US Trademark Registration No. 3,470,983, which initially provides prima facie evidence of non-functionality. The presumption of validity moves the burden to the defendant to provide evidence of functionality. Once the defendant has done so, the registration is no longer presumptively valid.
Samsung's argument that the icons are functional was persuasive, especially since Apple's expert testified that the icons promoted usability; if an icon is hit, then "certain functionality will occur on the phone." Apple's argument that the combination of icons were non-functional also failed; there wasn't sufficient evidence in the record of alternative designs or non-utilitarian advertising.
The result, in financial terms, will be a reduction in the award of damages, to be decided by the District Court for the Northern District of California.
For us, the case provides additional guidance with regard to trade dress in the context of product configuration.
Amy Goldsmith is a partner at Tarter Krinsky and Drogin and director and officer of the New York Women's Bar Association. She is also a member of the American Bar Association and the International Trademark Association (INTA) and is on the Board of Directors of Savvy Ladies, a non-profit whose mission is to educate women to be financially savvy.
Share
Author Bio
Written by Sigalle Barness
Sigalle Barness is the Vice President of Content and a member of Lawline.com's Executive Team. Sigalle provides business strategy and leadership to the company and directly manages Lawline's accreditation, programming and production operations. Sigalle also analyzes market trends and applies insights to develop and execute written and video content including online educational programming, email marketing, social media campaigns, press releases, blog articles and large scale live events. Sigalle graduated summa cum laude from Rutgers University and holds a B.A. in English. She received her J.D. in 2010 from Benjamin N. Cardozo School of Law in New York, NY. Sigalle is admitted to practice in both New York and New Jersey. She is also an active member of the Association for Continuing Legal Education (ACLEA), and is the former Chair of ACLEA's Programming Special Interest Group (2013 – 2015) and National Provider Special Interest Group (2015 - 2017). Before joining Lawline in March 2012, Sigalle litigated civil claims in areas such as landlord tenant, breach of contract and tax lien and mortgage foreclosures actions. She also handled transactional matters such as drafting residential and commercial leases, demand letters, and client conflict waivers. Sigalle is an avid lover of music, video games, blogging, asking questions and all things food. She is also fluent in Hebrew and enjoys writing fiction, traveling and scuba diving.
Subscribe to receive Lawline Blog updates
Recent Posts