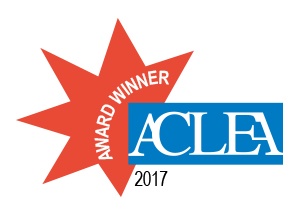 Yours truly! Lawline's dynamice mobile app won the Best Use of Technology Award and we couldn't be more excited.
In October of 2016, Lawline launched a dynamic mobile app allowing both online and offline access to an extensive library of content. The app not only allows attorneys to access and absorb CLE on the go, but provides an array of tools to enhance the learning experience, aid with information retention, and, ultimately, allow users to develop professionally and excel in their practice. Since its launch, the app has been downloaded over 4,500 times with users completing over 17,000 courses via the app.
In August of 2017, the Association For Continuing Legal Education (ACLEA) will host a Best Awards ceremony in Montreal, and has selected Lawline to be the recipient of an Award of Outstanding Achievement in their Best Use of Technology category. For the selection of this Award, ACLEA stated that the technology being nominated for this category must meet the following criteria:
Demonstrates an innovative use of technology
Is useful as an example for other ACLEA members to follow
Is well designed and well executed
Provides significant benefit to the CLE organization or its customers
Demonstrates an effective use of the organization's resources
Is well received by the target audience or market
We are extremely proud to have created a product that satisfies these criteria for reasons that go beyond receiving this great honor. One of Lawline's brand promises is Stress Free CLE. No user of any app should have to waste so much as an extra second in the navigation of that app, especially when the user is an attorney balancing heavy case-loads against family obligations and a grinding schedule. For this reason, we made ease of navigation a central feature of the Lawline app. Furthermore, once a course has been downloaded to the user's smartphone, it can be accessed at any time, regardless of whether or not an internet or mobile connection exists. Offline access frees attorneys from the restriction of consuming CLE at their desks, allowing them to integrate the learning process into every phase of their lives with flexibility and ease.
In satisfying an objective of information retention that can benefit users in a long-term sense, a SmartNotesTM feature has been integrated into the mobile platform allowing viewers to take notes during the program while simultaneously saving the specific point in the program that corresponds with the note. If they wish to review their notes afterward, they need only click on a particular note to be automatically directed to the corresponding portion of the course. The SmartNotesTM that a user generates on the app can sync across all of the user's devices, including iPad and desktop computers.
This ACLEA Award means a great deal to us, and we will ensure that the Lawline app continues to provide our customers with the best use of their technology and their time.