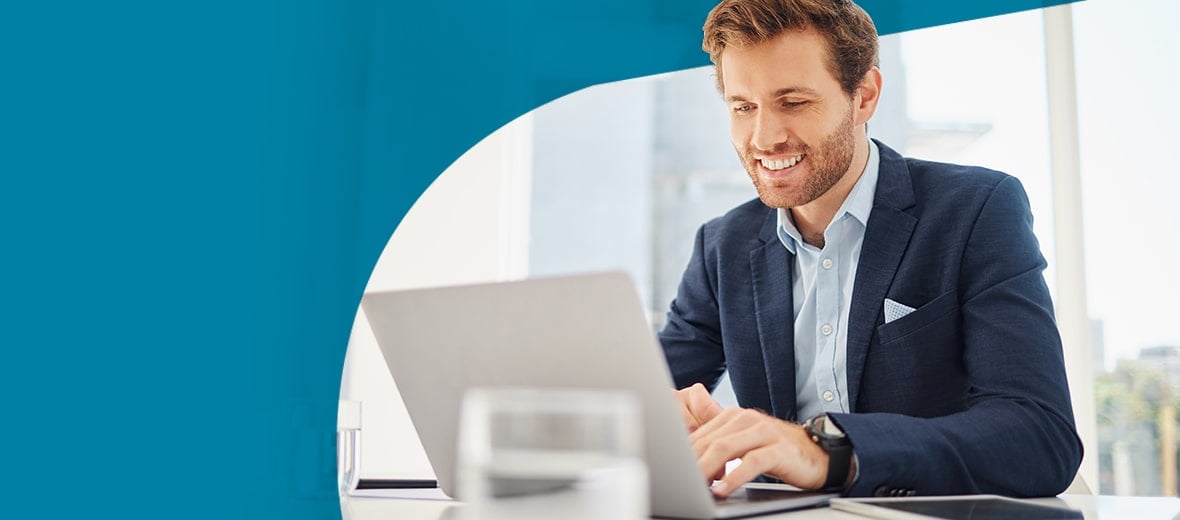 As the legal industry becomes increasingly competitive, attorneys must develop a diverse set of skills beyond just legal expertise. Marketing and media skills are becoming increasingly important for lawyers who want to stay ahead of the curve and succeed in the modern legal landscape. Developing these skills can help attorneys better understand their clients, effectively communicate their legal expertise, and build a strong reputation in the industry. In this blog post, we will explore the importance of marketing and media skills for attorneys and provide tips for how to develop these skills.
Engaging With The Media
In your 40-year career as an attorney, you will encounter multiple points for contact with the media. Whenever people see you quoted in news stories and read articles in legal and client industry publications, they will glean insights that will support business development, remind lapsed clients of your work together and reconnect with referral sources. Attorneys in every practice area will benefit from contact with the media.
Associate
When you join a firm as an associate, the Marketing team will manage any announcements. When a major transaction is about to close or a trial is about to conclude, ask your Media Relations or Marketing colleague about any potential press activity. There may be a reference to the attorneys, including associates, who worked on the matter.
Solo Practice
When you launch your own firm, be sure to contact the local law journal and the local bar association where you are a member. Compose a press release with basic information: name of your firm and areas of practice. Include any clerkships, plus the names of your law school and undergraduate college. Send this press release also to the local business reporters, as well as the relevant industry trade publications. Whether they run an announcement or not, you will distinguish yourself as a source for future comment on timely legal and business issues relevant to their readers. Of course, send the press release to the alumni publications of your law school and undergraduate college.
Commenting on News
Whether you are a solo practitioner or a partner, you may wish to speak with reporters about your own cases when you file a case in court or when you have reached a favorable outcome for your client. You may also comment on developments of other cases in the news. Use a Media Profile to professionally introduce yourself as an authoritative and accessible source on litigation in progress.
A Media Profile is a straightforward summary that highlights specific areas of interest. Send it to journalists who focus on specific industries relevant to your practice area; you will be tapped as a source for up-to-the minute observations on business and legal issues for that sector.
It often is difficult to generate media interest in a pro bono matter. When the case is viewed in terms of a trending social issue, reporters may take notice.
Authoring Articles
Many a change in regulation and legislation that will materially affect companies in relevant industries represents a publication opportunity. These issues may prompt a client alert that guides business executives so they can best implement the new rule.
Reporters at industry trade publications who recognize how this new law or regulation will affect operations may write news stories on this topic. They probably will look for an attorney to explain to their readers the new situation and its consequences in layman's language. Send a note to them and offer yourself as a source to explain any technical aspects, perhaps attaching the relevant client alert.
Consider whether this change may also provide an opening to co-author an article with a client. Working collaboratively has several benefits:
It enhances the credibility of you as author because your co-author speaks the industry's language.
The frequent contact to draft the article will help strengthen your relationship with the client.
The publication of the article will raise the client's stature among their peers. Readers in that industry sector appreciate it when a market participant shares the lessons learned.
Most legal and industry publications welcome article submissions, whether on a rolling basis with the topic of your choice or for a scheduled special section. As an associate, you may be required to have a partner as a co-author for a legal publication.


Before you write the article, propose it as follows. Send an email to the editor in which you suggest a topic in three sentences, include three bullet points to develop your thesis and, finally, request the word count and deadline. It can be risky to write the entire article in advance; what if it is longer or shorter than the publication's preferred length? When your proposal is accepted and you know the appropriate length, you can tailor the discussion accordingly.

If you are active in a professional or industry organization, presumably one where your clients and referral sources are also members, you may contribute a Legal Update periodically to the group's newsletter.

When you publish articles and are quoted in news stories, the media mention is not the end of the road. Potential clients, contacts in your many professional circles, referral sources and lapsed clients may not see the article or watch that news program. Plan to extend the lifespan of these media references by promoting them on your website and via social media channels, to grant them even wider distribution.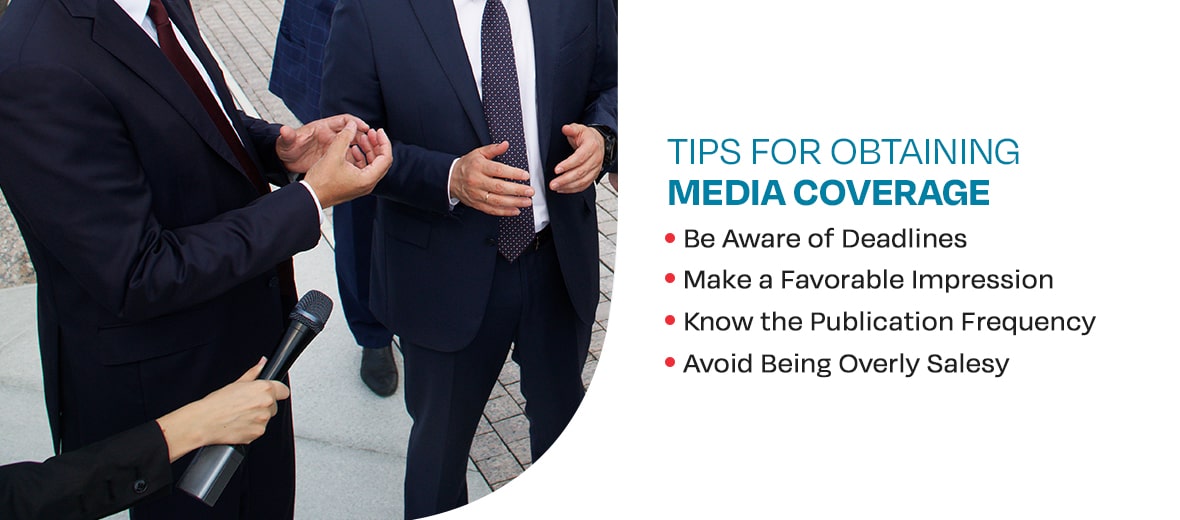 Tips for Obtaining Media Coverage
In some situations, you may want to reach out to the media directly to draw attention to a case or shed more light on a cause for which you serve as an advocate. Just as a salesperson must be adept at making presentations to clients, you must develop proficient pitching skills as an attorney to entice media members to learn more.
While pitching to the media is not an exact science, these guidelines can increase the likelihood of attaining favorable results.
1. Be Aware of Deadlines
Newspaper reporters and other media professionals adhere to tight schedules when submitting their stories for editing and publishing. If you contact a reporter to pitch an article idea while they're trying to meet a deadline, they likely won't have time to talk to you. It's best to start a conversation by asking if it is a good time to speak. If it isn't, schedule a more convenient time to call the reporter back.
2. Make a Favorable Impression
Media members are often inundated with story ideas and requests for coverage from multiple sources. You will have a better chance of standing out if you do some research before contacting a reporter. Know their beat and the types of stories they typically write. If possible, tie one of their previous articles to your topic. Be brief and to the point to show that you respect the reporter's time.
3. Know the Publication Frequency
The frequency with which a media outlet updates its publication will impact the type of story a reporter will consider. For instance, if you have information that applies to a hot-button legal issue and falls under breaking news, you should contact a daily publication that can go to press with the details immediately. On the other hand, a complex legal matter is more likely to appeal to a weekly publication or trade magazine.
4. Avoid Being Overly Salesy
Don't attempt to sell your firm and its legal services, as this will detract from your message and appear unprofessional. Stick to the facts of the case or legal situation when conversing with media personnel.
If you are interested in learning more about media relations and marketing strategies, you can explore more from Janet Falk here, and you can find the Sample Attorney Executive Media Profile & Worksheet here.
Marketing to Potential Clients
A common misstep among lawyers is that their marketing and business development activities only involve other lawyers. From doing CLE to writing legal articles to participating in local, regional, and national Bar Associations, their sphere of engagement revolves around the legal field specifically. On the one hand, contributing to legal outlets and organizations makes a lot of sense as doing so helps you stay abreast of timely legal developments, build credibility in your practice area and develop a solid referral network, among other benefits. However, focusing your energy only on lawyer-heavy "extracurriculars" limits your reach considerably.
Since ideal clients are often not lawyers themselves, it's critical to incorporate activities into your marketing plan that target these folks as well, and in a way that captures their attention. If your name and expertise are only found in trade organization listservs and publications, which aren't usually open to the public, the outside world will not be able to easily find you for your services when they need you. To address this concern, you must spread your promotional net wider, well beyond your legal circles.
As we all rely increasingly on digital assets, the typical avenues for generating business have shifted significantly over the past several years, and even more so during the COVID-19 era. Potential new business is no longer coming from in-person interactions as it once may have, and instead, people are learning about you or being introduced to your work for the first time through a screen. Given that, you need to meet your potential clients where they are – online.
Marketing in a Digital Era
While you can invest marketing dollars in paid advertising or SEO services to boost the placement of your website on search engines, there are other options to get you noticed. Using online outlets that have established clout can be more efficient and affordable, especially if you're coming from a smaller firm. There are many reputable review sites used to discover lawyers that are at your disposal. Lawyer-specific sites like Avvo, FindLaw, Justia, and Lawline allow you to fill in your free profile with relevant information on your bar admissions, practice areas, accomplishments, and contact information. The same goes for more general recommendation-based platforms like Yelp.
Once you create and complete your profiles on these platforms, you can ask satisfied clients to write reviews for you, which will boost your ratings and subsequently make you easier to find in a search based on your location and areas of expertise. Furthermore, encouraging peers and happy clients to nominate you for awards such as Super Lawyers and Best Lawyers is another effective way to build your reputation and bring your name to the forefront of a lawyer search.
In addition, social media accounts on behemoths like Facebook, Twitter, LinkedIn, and Instagram are imperative for raising your profile. Creating individual and/or business accounts (both are recommended) is free and posting and engaging with others on these channels builds your name and brand outside of the limited legal sphere. Furthermore, social media profiles are typically the first items that come up when someone types your name or firm in a Google search, so you want to make sure that your profiles are up to date and consistent across channels so that they draw people in, rather than drive them away.
Overall, if you're looking to get more traction from a wide array of clients, you must ensure that your name and expertise are located in places online where your information can easily be found. Of equal importance is conveying what you do in a straightforward and digestible manner for a broader audience. Translating various areas of your legal expertise to a wider market is not always easy but in most cases, it is absolutely necessary. While the nuance of your practice is certainly important when you're working on a new matter, it's much less necessary when attracting new clients. For the most part, clients need to know where you are located, what areas you focus on and why they should choose you (awards, notable cases, experience, etc.).
Additional Marketing Tips for Attorneys
You should also become proficient in several other areas to fortify your marketing and media relations skill sets.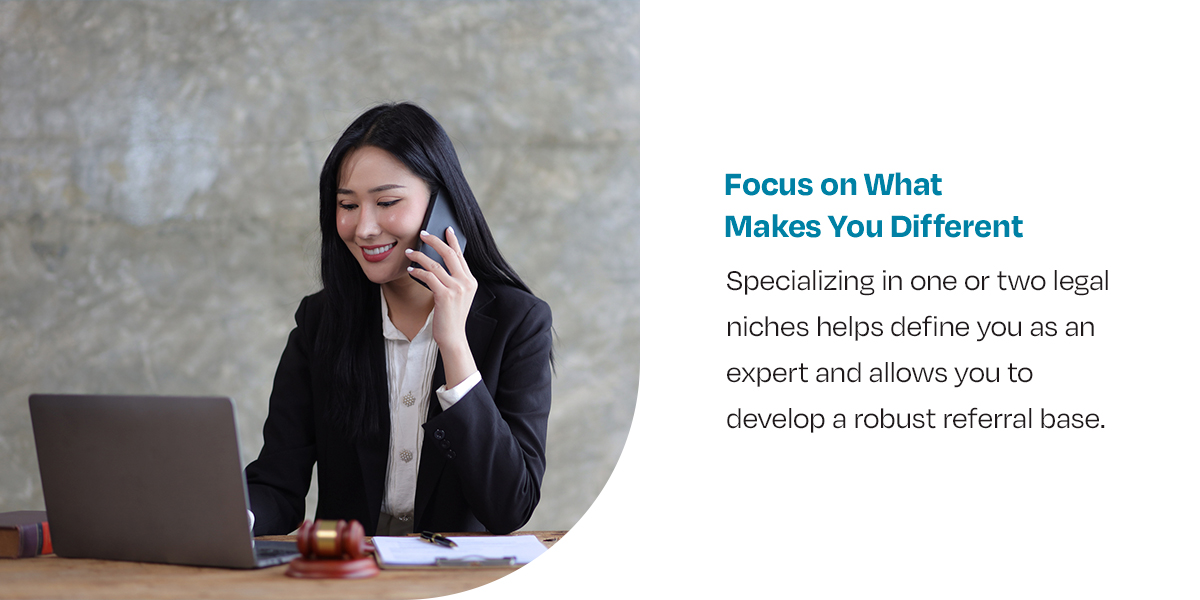 1. Focus on What Makes You Different
Many brand-new attorneys mistakenly believe that trying to be all things to all people is the fastest and most effective way to build a practice. In contrast, specializing in one or two legal niches helps define you as an expert and allows you to develop a robust referral base.
Becoming a specialist also enables you to implement proven niche marketing techniques that will widen your visibility within a clearly defined practice area and help you build your business ethically.
2. Harness the Power of Social Media
Many potential clients will turn to social media sites like Facebook and Twitter when gathering information about attorneys. It's crucial to establish a presence on these platforms to share relevant legal information and interact with people who have questions or concerns. Creating a blog post about a pertinent topic is an excellent means of positioning yourself as a subject matter expert. Becoming familiar with digital marketing is a key aspect of marketing yourself as an attorney.
One caveat — make sure your social media posts and conversations conform with all applicable compliance responsibilities and ethics regulations. They should also include a disclaimer.
3. Start a Podcast
Creating a weekly podcast is another way to foster sound media expertise and reach a broader audience. You will have the freedom to expand on a topic related to specific practice areas while honing your presentation skills. You can also invite other attorneys with extensive knowledge of the subject to appear and engage in a stimulating, informative dialogue.
4. Make Networking a Priority
Getting out and meeting people within the local community is one of the most effective ways to build your solo practice. Networking activities can include attending meetings or becoming a member of business, trade, and professional associations. Networking might also mean having lunch with bankers, real estate agents, accountants, and others who could refer clients to you. Your networking efforts need to be consistent and ongoing to achieve the desired results.
Explore the Informative Courses From Lawline
Lawline offers an assortment of continuing education programs covering the law and various aspects of the media. You will also find numerous law practice management courses that can help you improve media relations, marketing skills and other areas that impact your practice. We have everything you need to boost your knowledge and take charge of your professional growth, so start a free trial today.
Last updated on May 11, 2023