Top Three Tips for Reopening a Business During the Pandemic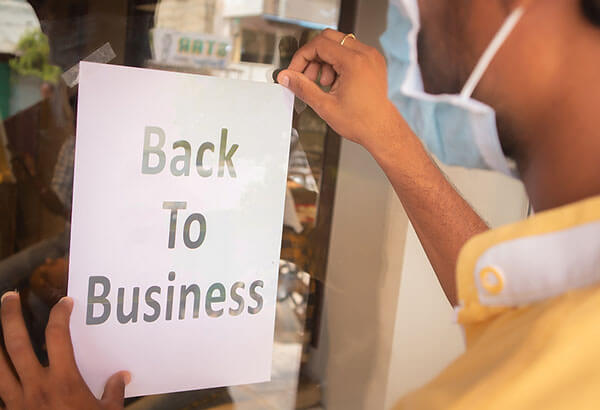 As states and cities across the nation are in different phases of reopening amid an ongoing pandemic, employers and their attorneys are tasked with getting back to business while implementing new health and safety precautions. Here are the top three things you need to help your clients do to keep their business running smoothly.
Create a Safe Work Environment. Employers need an action plan for reopening, based on CDC, state, and local guidelines. The CDC recommends employers promote healthy hygiene practices and social distancing, encouraging behaviors like hand washing and wearing a face covering, and retrofitting the workspace to allow for extra spacing between employees. Where possible, employees should still be encouraged to work from home, and employee shifts and breaks should be staggered for those on site to have minimal contact with each other.
Monitor Employee Health. Screening employees can help prevent the spread of COVID-19. Self-screening should be encouraged as the first line of defense: employees with a fever or who are exhibiting symptoms should not enter the workplace. If an employer implements health screening measures onsite, such as temperature checks and active symptom checks, the guidelines for what temperature and symptoms will bar entry should be made clear and focus on new symptoms, not pre-existing conditions. If screening will take place on site, proper safety precautions should be in place to protect the screener's health as well.
Protect the Business from Liability. A top concern among employer-side attorneys is the liability employers may face if an employee contracts the virus. While it may seem appealing to have employees sign liability waivers to establish a contributory negligence defense, courts are unlikely to enforce such agreements, especially for current employees. Also, keep in mind that while every state requires employers to maintain workers' compensation insurance, the extent of the coverage will vary. So far, 14 states have expanded coverage to include Covid-19.
For more information about PPP loans, liability waivers, and other business considerations, check out the recent CLE Reopening Workplaces During COVID: Rehiring Staff and Mitigating Risk through Health and Planning a Return-to-Work During the COVID-19 Pandemic.
This article was prepared with help from Max J. Cheslow, a Seton Hall Law student.
Related Content
Lawline Wins Coveted Award of Professional Excellence in the Public Interest for Coronavirus Response