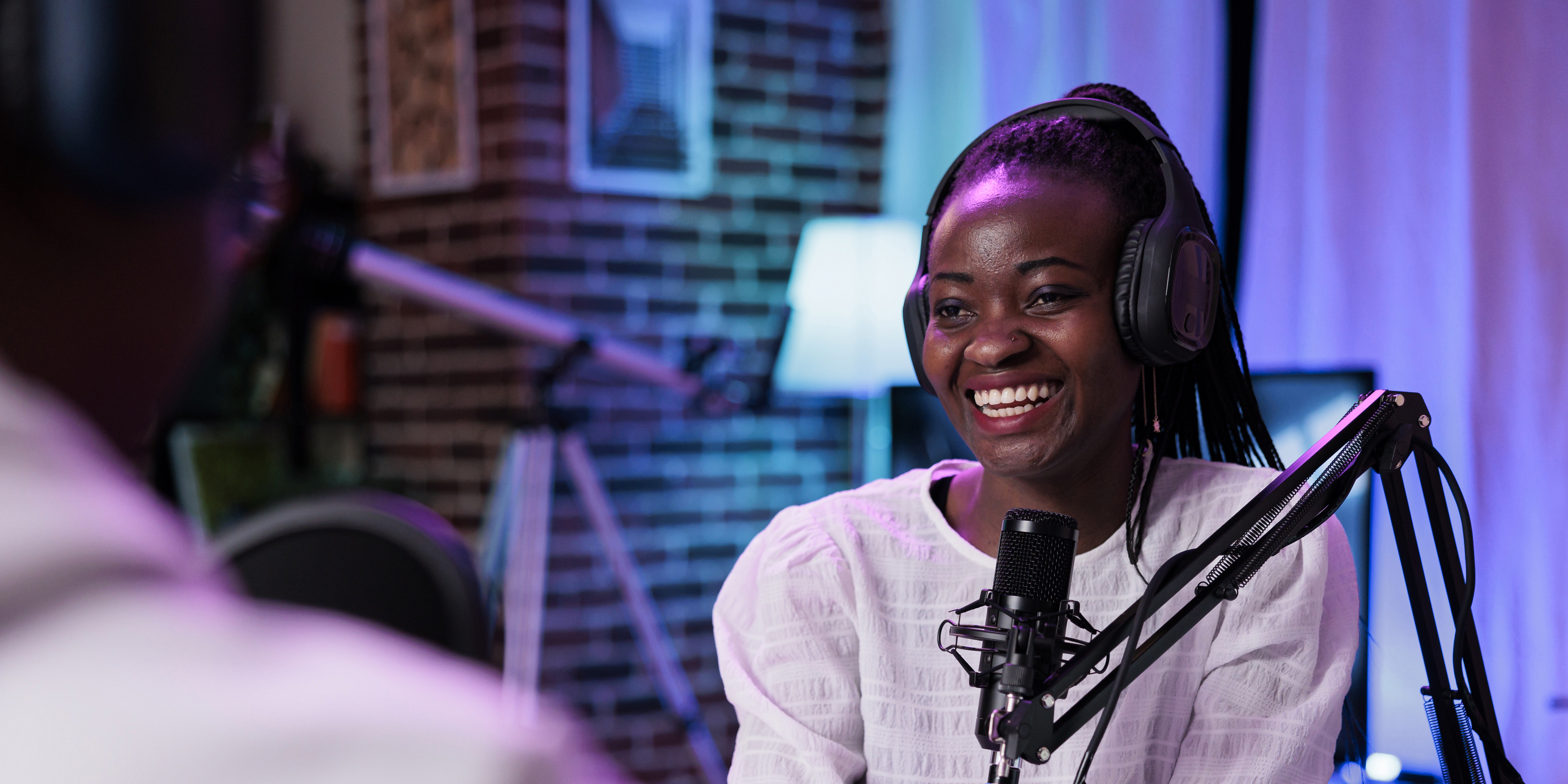 As a lawyer, you possess substantial legal knowledge that can benefit others in your community. With the advent of the internet and podcasts, you have more avenues than ever to convey essential information to people seeking guidance in your areas of expertise.
If you've been invited to be a guest on a podcast, congrats! Being on a podcast is fun way to share your expertise, experiences, and help others learn from your journey. Here are five ways you can ensure your episode really shines (and avoid some unnecessary blunders)!
Tip 1:

Take Your Audio Seriously
If you've listened to other podcasts, you know that audio clarity can sometimes be an issue. Some steps you can take to ensure good sound quality include:
Pick an ideal room to record. It's crucial to choose an environment that has good acoustics. This room should be small with things that absorb sound (carpets, furniture, curtains) and in a quiet area away from any noise.
Use headphones. Using headphones and turning off your internal computer speakers prevents unnecessary feedback and electronic echoes.
Use a USB microphone. High-quality sound equipment is vital when recording a podcast. Although computer mics are fine as a last resort, it won't provide the best audio. If you don't have a USB microphone, use a microphone that's built into your earbuds or headphones. In most cases, these are better than your computer mic. No matter what, never use a Bluetooth connected microphone as the connection can be unreliable.
Tip 2: Remove all Distractions
Background noises can break the concentration of podcast hosts and their guests. These sounds can also annoy listeners and make it harder for them to follow the conversation. Follow these steps to eliminate distractions and enhance your audio presentation:
Close out apps. Close your email, calendar, instant messaging (slack, gchat, etc.).
Silence all devices. Silence your phone, alarms, and any other notifications.
Don't eat. No eating or chewing gum. You can have water but mute when sipping!
Focus on the conversation. If you need to take notes, have a pen and paper ready as typing is easy to hear over the microphone!
Tip 3: Listen to a Previous Episode
You'll want to have a feel for your audience and what they expect from the podcast. Listen to a recent episode to get a sense of the tone and keep this in mind during the recording process. You may also get a better idea of the information you need to focus on when preparing for the event, enabling you to:
Know the audience. Podcasts are about having a discussion that is valuable to the audience. This means having thoughtful, genuine conversations that reveal a human experience.
Know the type of questions you'll be asked. Although every guest is different, there will be certain questions that a host will always ask.
Identify the overall feeling of the episode. Is the podcast host playful or serious? Are there certain topics the host avoids like religion or politics? Knowing these things beforehand will do wonders for the episode.
Be ready for the "bits": Many podcasts have consistent segments or bits that are part of every episode. Learn what these are and prepare to participate in them if the host requests you to do so.
Know the correct way to pronounce the host's name. Correctly saying the name of the podcast host is vital to avoid embarrassment and show them that you took the time to learn about them beforehand.
Tip 4: Keep it Real
A podcast isn't a vehicle for drumming up business for your firm. While the exposure can help attract more clients, your main goal should be to come across as a knowledgeable and reliable attorney. Keep these tips in mind as you converse with the host:
Don't be promotional. You were asked to be a guest because of whoyou are, not because of a brand, employer, or product you represent. Although you may be asked about these things, speak like you're catching up with a good friend you haven't seen in a while.
No need to be perfect. Although most podcasts will edit out unnecessary ums, ahhs, and awkward moments, the best shows embrace laughing, talking your thought process out loud, and other ways a chat happens organically between host and guest.
Let the host control the flow. The host is responsible for the flow and filling any awkward silences. Try not to ramble or deviate too far from the initial question. Focus on answering the question posed in a valuable and meaningful way and the host will do the rest.
Don't talk down to the audience: You don't want to come across as arrogant or condescending. Keep your tone friendly and conversational throughout the podcast.
Tip 5:
Share Your Episode
Appearing on a podcast is a fantastic way to help potential clients learn more about you. You'll want to spread the episode via multiple communication channels to ensure you reach the widest audience:
Share your episode after recording. When you get notified that your episode is premiering, share it with your network! Share the podcast on social media, on your website, and via email. Your host will usually work with you to promote across every channel to ensure you can get your voice heard!
Repurpose the content: Not everyone will have the chance to listen to your podcast, so you can use the main points to create blog posts, infographics, or even a brief video to provide additional opportunities for people to access the information.
Further Your Legal Education With Lawline Courses
Enhancing your legal knowledge with current, relevant information is essential for being a stellar podcast guest. Lawline offers a wide assortment of informative continuing education courses that allow you to develop your expertise and take charge of your professional growth. Check out our programs covering more than 60 practice areas and sign up for a free trial today.