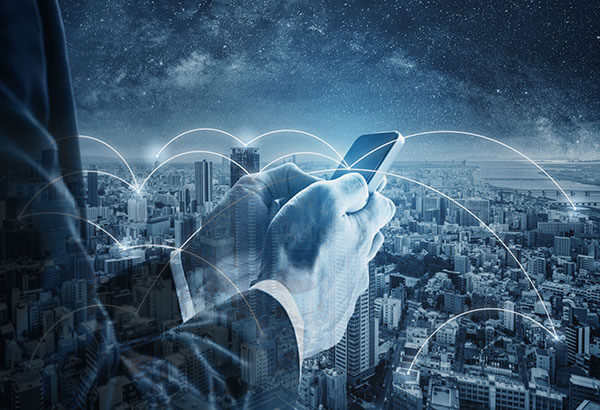 Practicing Law in A Digital Era

Practicing law has been and will continue to be a relationship-based business. Establishing trust is at the core of the work and where many referrals originate given the high stakes and often intimate nature of the services provided. However, we are now in a new era – digital communication is the core of our interpersonal dynamics more than ever before. These channels have become the primary way people learn about and connect with you and your firm.
For starters, clients are relying on digital sources (increasingly via their phones) when conducting research on what to buy and who to work with. They are also prone to brand storytelling when making a purchasing decision and want to understand a brand's ethics and background when investing in them. The latter has been especially important during the age of COVID-19, specifically, clients and potential clients want to know 1) how your business is responding to the crisis and 2) what you are offering to help them navigate it. How you handle those two specific items during this time will impact whether you lose, maintain or gain traction.
So, this brings us to an important question to ask yourself: When a new client or referral source Googles me or my firm, what will they find?
The Importance of Building An Online Presence
Here are some common scenarios I see with my attorney clients:
Nothing – you have no digital presence at all (cue siren sound!)
A website that is outdated, confusing and/or barren
A Linkedin profile that is stark, convoluted and/or dated
Social media channels that are inconsistent, disorganized and/or inactive
Just as building trust through in-person or phone interactions is key when developing a business, establishing trust online is equally important. When potential clients or referral sources find any or several of the above scenarios when they research you online, there is a breakdown in trust and reliability – especially for a younger demographic.



Instead, here are the items you want people to find when they Google you:
A clean, concise and up-to-date website with your mission and capabilities
A completed Linkedin profile with your current headshot, role and accomplishments
Social media channels for you and/or your firm that are consistent, organized and active
Building Online Profiles
Online profiles. You might think these are relegated to two places: LinkedIn, for your business endeavors, and Facebook, for your family and friends (read: dopamine fix). In reality, however, the web offers so much more in terms of profile-creating, brand-building, and business-driving options; so if you're looking to bulk up your online presence in the COVID era, you're in the right place.

If you're already a Lawline Unlimited Subscriber, simply log in and edit your Lawline Profile. If you're not yet a subscriber, click here to subscribe for Unlimited access and fill in your profile today. When you get started, here are three goals that you - and your firm - should always keep in mind:
1. Establish Your Own Unique Brand.
This is not your grandpa's legal industry. Similar to dozens of other industries, attorneys are more likely to job-hop than they were just a decade ago. (If you're managing a law firm and looking to hold on to your talent, check out our white paper on the subject!) In order to position yourself as a unique - and uniquely hireable - attorney to be more attractive to potential employers, you need to have a carefully curated online presence. And this doesn't mean that you're on LinkedIn Monday through Friday and Instagram on the weekend - you need to do more and do it better. According to the ABA, this is especially important for new attorneys: "For a new lawyer, mastering your online presence can build your profile and aid the progression of your legal career."
2. Build Your Firm's Brand.
As an attorney, building your own brand is not separate from building your firm's brand. Law firms need to be leveraging multiple platforms and curating each one. On the internet, this can mean the attorneys at the firm have multiple online profiles - their firm profile page (extremely important), and other profiles that all backlink to the firm's website. As Lexology notes, "Without a strong online presence, a firm will fail to reach a sizable audience of potential clients, virtually handing them over to competitors on a silver platter." They also suggest that listings in online directories are great, but not enough. "Unless you make substantial, ongoing efforts to forge your online presence, you risk being swallowed up by savvy competitors which have learned how to harness the power of the Internet to establish a following and a strong reputation." Firms and individual attorneys can make savvy, SEO-building choices in the profiles they create, the platforms they use, and the content they disseminate via those profiles.
3. Contacts, Leads, and Clients.
One major bonus of having a strong online presence is the ability to create leads and meet potential clients. While blogs, firm profiles, legal directories, and professional networks can all cultivate this presence and nurture leads via backlinking, you want to set up multiple touchpoints where potential clients can find and even directly contact you (see tip #20, here). More than half of all contacts from Lawline Profiles are from people looking for legal services or legal advice, giving Lawline subscribers an edge when clients are searching for legal services.
Other Ways to Boost Your Online Presence

There are additional items that build your credibility online including press, awards, articles and speaking engagements (such as Lawline!), but digging into those avenues is beyond the scope of this piece.
Creating Brand Association
So, where do you start when it comes to developing a strong digital presence? First, you need consistent and clean branding that can be used across a variety of different mediums – this includes your logo, colors, fonts and tagline if you have one. If you do not currently have these items, or your branding is over 10 years old, then it's time for a rebrand. Once you have that collateral created, it can be implemented across all of your digital and tangible assets, from your business card to your website to your social media profiles.
Use The Right Language
Next, it's important to develop language around you and your business that resonates with your client base and is easy to digest and understand (e.g., the general public for a personal injury practice or a business audience for a commercial litigator). While using verbose language and legalese is an essential part of lawyering, it has no place in your marketing materials. Instead, focus on creating a description of your firm, your services and your expertise that is both personal and direct. In short, what do you offer and why do you stand out? Once you have developed this type of capabilities statement, it can be repurposed on your site, Linkedin profile, other social media pages and anywhere else you promote your firm. Ideally, when people check out any of your online materials, they find a similar look, feel and tone across all of them. This consistency reinforces the idea that your business is reputable, serious and trustworthy.
Digital Advertising
Lastly, an important item of note is the role of digital advertising for solo and small law firms. As we've all experienced firsthand, you are being targeted by brands and advertisers 24/7 on a variety of channels. Given our personal experiences with the annoyances and effectiveness of these practices, it's valuable to think about the role strategically if you decide to engage in these practices yourself. I know many entrepreneurs and small business owners who dip their toe into the digital realm by focusing their marketing spend on digital advertising – be it through Google, Yelp, Facebook or elsewhere. While these platforms and many digital agencies are more than happy to take your money, what is often overlooked is what happens once you get people to take the action that you want (i.e., visit your site, sign up for your newsletter, etc.). What people find once they get to you is where the client acquisition pipeline either works or breaks down.

When your website, Linkedin or other social media pages give visitors pause due to functionality issues, weak content or brand inconsistencies, it is a huge missed opportunity for business development. Before you invest your time and resources into digital advertising, ensure that your online materials are up to snuff. Now is the ideal time to address these items for your business, and doing so will prove beneficial during this time of uncertainty for your clients and colleagues, and well into the future.
Using Your Lawline Profile to Boost Your Online Visibility
Lawline Profiles for customers offer several avenues for attorneys to build their brands, including:
An increase in SEO (online visibility);
Additional traffic to their own websites; and
An easy way to receive new leads and inquiries from potential clients.
Each attorney's profile is also a platform to highlight their resume, achievements, and content - all while capitalizing on Lawline's extensive online presence for maximum visibility.


"Lawline's goal has always been to make being an attorney just a little bit easier - from taking the guesswork out of MCLE to making sure attorneys have the necessary information at their fingertips," said David Schnurman, Lawline's CEO. "Now, we're using our online presence to help attorneys go further in growing their practice, making it easier for potential clients to find and contact them."
Check them out today - and if you're not already a subscriber, sign up for your Unlimited Subscription now.
Last updated on May 3, 2023
Related Content:
Your Guide to Lawline Profiles
Pandemic Law Practice Management: How to Leverage Resilience in the Face of Uncertainty
Public Profile Highlights: Featuring Victor M.