Best Buys for a New Attorney's Professional Wardrobe That Don't Break the Bank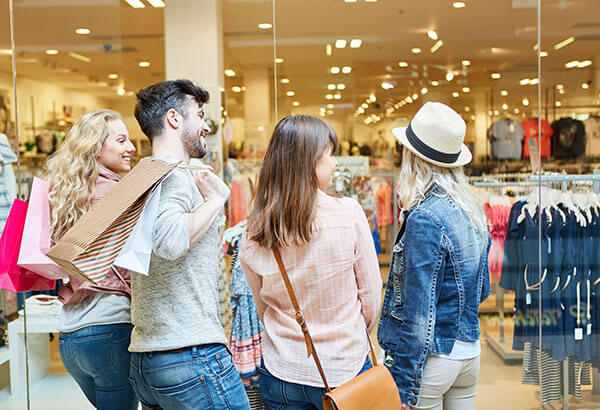 The July bar exam is over! We're giving the latest law school grads a minute to breathe. You just studied for three and a half years straight and took a really long exam to cap it off. So today, we're going to tackle a less stressful, yet important, topic: what to wear to work. While fashion doesn't necessarily appeal to everyone, there have been countless articles about how dress codes impact productivity. And if you're not worried about your wardrobe, you are free to focus on other things. You know, like your job. Or maybe your new CLE requirement?
So while you gear up for clerkships, associate positions, or the next round of interviews, check out this list of comfortable, affordable, work-appropriate options to spruce up (or finally build?) your "I'm a lawyer now!" wardrobe. From button-down only offices (yuck) to pantyhose, heels, and skirts for a women at trial (double yuck), we've got you covered.
These professional looks will not bore you to death, pinch your waist, or break your bank. All individual pieces are less than $200 and can be paired with multiple other separates to maximize the mileage of each piece. Happy shopping!
1. The most comfortable women's suit ever. (No, seriously).
Women's suiting doesn't have to be uncomfortable, but most of it is (what is up with the shape of suit pants?!). Turns out, JCrew made a suit that doesn't suck. Their stretch twill is soft, durable, easy to clean, and true to size. You can find the blazer, pants, and skirt separately, and match them as you please. The only downside? It only comes in three basic colors (black, gray, and navy). Can we start a campaign for a few more colors? I'll write in if you will!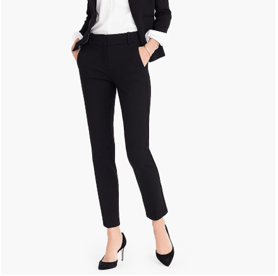 image jcrew.com
2. The chino to end all chinos.
Women are not alone in wanting to be more comfortable during their waking hours. Banana Republic heeded the call and came out with the Rapid Movement Chino. Available seasonally in what amounts to an endless array of colors (steel blue? Yup. Traditional light khaki? Yup. Maroon? Navy? Gray? Yup, yup, yup.), this chino puts all others to shame. Better yet, they come in four different fits so that you can find your perfect one.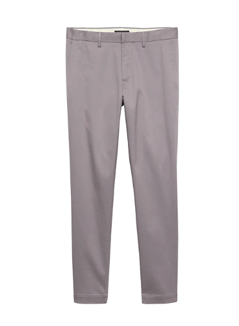 image bananarepublic.com
3. Trendy tie-waist pants.
While not actually leggings, these Halogen pants are so soft you'll forget you've been doing doc review for 11 hours straight. Available in multiple colors at Nordstrom.com, they feature a cinched-waist and tapered leg - offering a professional silhouette with a touch of personality. In warm weather, you can wear them with a chic ballet flat and blouse; in the fall, a fuller-coverage heel or sleek bootie (depending on your office) and a tucked in button-down with funky cuffs completes the look.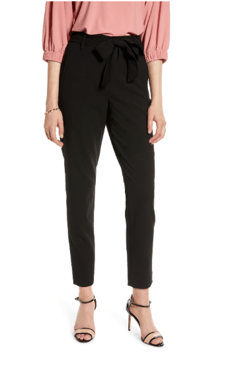 image nordstrom.com
4. Long-line blazer.
Who doesn't love a good throw-back department store? Lord & Taylor offers a ton of great Tahari pieces, including this awesome long-line blazer (aka a "topper jacket"). Supersoft, in a traditional white-and-black tweed, this look is the perfect combination of old- and new-school. Wear with skirts, dresses, or pants - it's completely versatile and a fantastic transitional piece for this fall.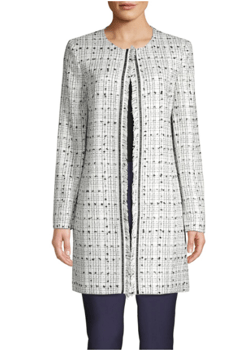 image lordandtaylor.com
5. The knit polo.
An elegant take on a more casual look, a long-sleeved knit polo sweater in a rich hue is a great office look. Wear with dress pants or a khaki chino depending on the vibe in your office. This one is available at L.L. Bean and comes in several colors - the "deep port" is particularly enticing. Note: more and more of this style will be available as the weather gets colder, so you can always check back to your favorite department store or online boutique.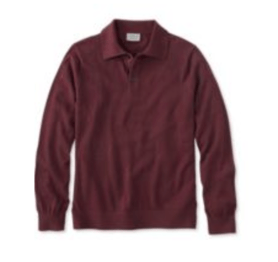 image llbean.com
6. Ponte dress.
Feel like wearing a dress? A stretch ponte in an unexpected shade of a traditional color is a great place to start. Pair with a cropped blazer, long-lined blazer, or a sweater to change it up. This version looks great with flats, pumps, and even a below the knee riding boot for fall. The company (M.M. LaFleur) is all about "practical, inspired wardrobe(s)" for women. You can buy their pieces individually or subscribe to a box - they are definitely on the pricey side, but there are some affordable pieces that are worth a look.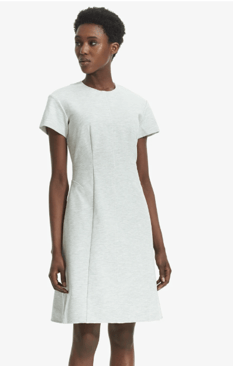 image mmlafleur.com
7. The classic men's suit.
While you can spend under $500 on an awesome custom suit from companies like Suit Supply and Indochino, you might have a tighter budget than that - and that's okay! Nordstrom Rack has a solid offering of discounted Kenneth Cole Reaction men's suits that are seriously in style. Two button notch lapel, skinny fit, slim fit, "performance stretch", and even three-piece suits are available for under $200. Colors range from the classic charcoal to the trendy brighter blue - just be careful with anything labelled "shine" or "sharkskin" if you prefer a more matte look, as those are made from a very shiny fabric.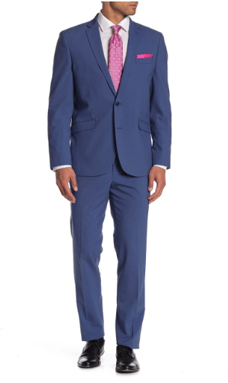 image nordstromrack.com
8. Contrast-cuff button down.
This is a great look that anyone can pull off. You can embrace a pop of color and patterns while adhering to the traditional button-down uniform. This style can be paired with dress pants, chinos, or even a high-waisted skirt in a solid neutral (trust me). Check out this pink gingham with a pop of blue from Hawes & Curtis, or this very conservative take on the look from Brooks Brothers.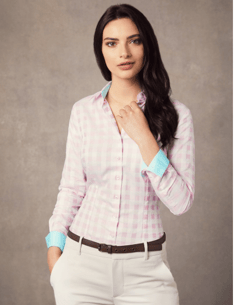 image hawesandcurtis.co.uk/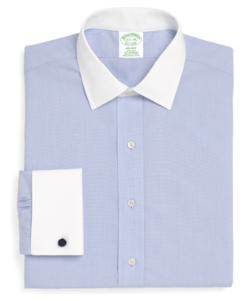 image brooksbrothers.com
Questions about dress codes or shopping for professional clothing? Something else you'd like to hear us tackle? Comment and let us know!