George Washington: Top Ten Fun Facts About Our Nation's Founding Father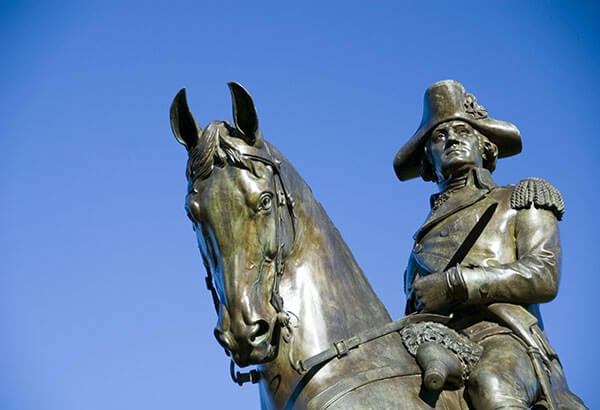 In honor of the upcoming Fourth of July holiday, Lawline is sharing fun facts about our nation's founding father George Washington.
Washington is a beloved figure in our nation's history - he was a general during the American Revolution, president of our Constitutional Convention, and was unanimously elected by the Electoral College to serve as our nation's first president. As perhaps the most legendary figure in our nation's history, we wondered what other fun facts we could find about this founding father. Here's what we discovered:
George Washington had two birthdays! How, you say? Well, he was born on February 11, 1731 in the British colony of Virginia. However, England and its colonies later adapted the Gregorian calendar, which moved his birthday to February 22, 1732, which is the date we celebrate on President's Day
Washington was a highly skilled equestrian, which undoubtedly aided his military prowess during the Revolutionary War
George Washington was 6'3" and extremely athletic, excelling at almost every sport, and was even known for cutting a rug on the dance floor
Washington was the only president who never occupied the White House. In fact, he oversaw its construction, and in 1791 he specified the location of the future presidential home
After leaving office, Washington started a successful whiskey distillery
Washington was an avid dog lover. He owned more than 30 foxhounds
Washington holds the highest rank possible in the U.S. military. He was posthumously awarded the honor in 1976
He is the only President to serve in battle while serving as President
Contrary to popular belief, Washington did not wear a wig. He did, however, powder his hair. Washington's real hair color was actually light brown, but powdering hair was in fashion at the time
Washington was the first person to sign the U.S. Constitution
Washington was a fascinating and complex man of many interests, and will forever hold an iconic place in U.S. history. If you're a history buff and looking for more legal info on our nation's founding, be sure to check out the fascinating program Developments in First Amendment Law in American History. And for the latest constitutional developments, be sure to check out our upcoming programs on Digital Hate Speech and the First Amendment and Evolving Fourth Amendment Trends.
The original version of this article was published in February 2018.