Summer 2019: Lawline Faculty's Top Vacation Picks
Summer vacation season is here! Here at Lawline, we took the time to ask our fabulous faculty the following question: Where is your favorite place to vacation in the summer? From close to home to across the seas, you won't want to miss these exciting destinations. Check them out below - and feel free to comment and let us know where you go to get away from it all.
1. Jamming on the Jersey Shore

In the summer I usually don't vacation for two reasons; first, I am a semi-professional musician so the summer is when my band works a lot. Sometimes, we are working up to four nights a week. Thus, I would save vacation for the Fall or Winter. Second, I live on the shore of New Jersey and as far as the East Coast goes, we have some of the best beaches in the country so leaving in the summer is somewhat counterintuitive. In fact, a lot of people from around the country actually come here to New Jersey (and the "Jersey Shore") to vacation, so I like to stay home. But if I were to vacation in the summer and go somewhere it would have to be Los Angeles. LA and San Diego, to me, are two of the prettiest parts of the country and the weather is really tough to beat. Plus, there is so much to see and do there.
- Ken Biedzynski, Partner at Goldzweig, Green, Eiger & Biedzynski, L.L.C.
2. Quality Time on Lake Tahoe

My favorite vacation spot is our family cabin at Echo Summit near Lake Tahoe because I have more than 40 years of memories there and when I enter the cabin I immediately relax.
- Gordon Hart, Partner at Paul Hastings LLP
3. Something for Everyone at Banff National Park

Banff National Park is one of my all-time favorite summer vacation spots, and you can have an incredible time at almost any budget. If you're trying to keep costs down, there's incredible hiking around the peaks surrounding Canmore, and then you can browse the local art galleries in town (don't miss Avens and Elevation), your walk fueled by a hand-crafted coffee and sandwich from Mountain Mercato. If it's upscale you're after, the Fairmont Chateau on Lake Louise is hard to beat. There's an easy hike around the lake, and then you can follow that with a world-class dinner overlooking the lake at their Wine Spectator-awarded Fairview restaurant before spending the night in one of their luxe rooms. One tip: Skip the jaunt up north to the Jasper Icefield -- it's touristy, pricey, and not worth the hype, especially with so many other splendid things to do outdoors in the area.
- Maddy Martin, Head of Growth & Education, Smith.ai
4. Discover the Natural Beauty of Western New York

You might hear about snow in western New York state during winter but in summer, it is glorious! Wonderful state parks provide an opportunity to spend time in nature. Majestic Niagara Falls divides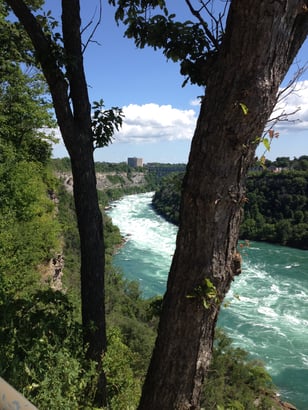 the United States and Canada and can be viewed (24 hours a day/365 days a year!) from New York's first state park in Niagara Falls, New York. If you plan on crossing the border to Canada, please make sure to have your U.S. passport, green card for permanent residence, or other documentation showing a valid U.S. immigration status for your return. Whirlpool State Park, a short distance from the Falls, also provides great views. Letchworth State Park, not far from Rochester, New York is called "The Grand Canyon of the East". It is stunning. The state park has hiking and camping areas as well as an inn, restaurant, and swimming pool open in the summer months. The National Comedy Center opened in Jamestown, New York (home of Lucille Ball) in summer 2018. This terrific interactive museum provides a comprehensive history of comedy!
-Lindsay Curcio, Principal at Law Office of Lindsay A. Curcio, Esq. (thanks for sharing your amazing photo, Lindsay!)
5. Quaint and Quiet Quality Time in Cape Cod

My favorite place to vacation in the summer is Cape Cod, Massachusetts (I almost feel like the Jersey girl in me should not be admitting that publicly!). I love the beach, the New England air, the beautiful scenery, and the quaint shops. Most of all, I love that I get to be on The Cape with my extended family year after year. It is always so nice to spend quality, uninterrupted time together before September hits and everyone is back to the daily grind.
-Rebecca Moll Freed, Partner at Genova Burns LLC
6. Double the Continents, Double the Fun: Scotland and Mexico

This summer we vacationed in two very different places: Scotland and Mexico. First we took the train from London to Glasgow, then went to the Isle of Skye, and finally to Edinburgh.
Scotland is not all golf and whisky—there's now a boom in gin distilleries. The major cities have amazing museums, historical sites, and outstanding restaurants and music venues. Skye boasts many scenic wonders like the Quiraing, the Old Man of Storr, and the Fairy Pools and the Fairy Glen. With great hiking, friendly locals, and farm-fresh foods, Skye is well worth the visit.
Later in the summer we visited Punta Mita, just north of Puerta Vallarta on the Pacific Coast of Mexico at the same latitude as Hawaii. The ocean water was warmer than the resort swimming pools. An added bonus was the wildlife in the area, including iguanas, javalinas, coatimundis, and many bird varieties.
-Benjamin Shatz, Partner at Manatt, Phelps & Phillips, LLP
7. Soaking in All that Chicago Has to Offer

It's hard to beat Chicago in the summer. From spending time along Lake Michigan, to watching my beloved Cubs play at Wrigley, to eating all of the delicious food the Windy City has to offer, I love it all. I was lucky to spend a lot of time there growing up, lived there briefly, and still have a lot of family in the area, so it has a very special place in my heart. My perfect Chicago day: hop aboard a Wendella boat for the Chicago River architecture tour, head out to River Grove for a Gene and Jude's hot dog, and then grab a drink around the corner at the one-and-only Hala Kahiki Tiki Bar & Lounge.
-Jonathan Havens, Partner at Saul Ewing LLP
Jonathan Goldstein, Partner at McNelly & Goldstein LLC, also advises everyone to check out these fun spots: Charleston, South Carolina; Bedford, Pennsylvania; and New Bern, North Carolina.
Whatever your summer plans, we wish you much-needed rest, relaxation, and quality time with your loved ones.
P.S. - Check out our catalog to look for the amazing courses taught by the high-caliber faculty featured in this article!
Share
Author Bio
Written by Angelica Cesario
Angelica Cesario is Lawline's Lead Program Attorney. She graduated cum laude from Amherst College in 2008 and holds a B.A. in Women's and Gender Studies and a Certificate in Latino and Latin American Studies. She received her J.D. from Columbia Law School in 2013 and is admitted to practice law in New York and New Jersey. Before joining Lawline, Angelica worked as a plaintiff-side labor & employment litigation attorney. Outside of work, Angelica serves on the Board of Directors of the TEAK Fellowship, a non-profit academic and cultural enrichment program that provides educational access to top NYC students. Angelica is the proud mom of an energetic toddler. During her free time, she enjoys reading, trying new foods, and catching up on her favorite TV shows.
Related Posts
Subscribe to receive Blog updates
Recent Posts