Summer 2018: Attorneys' Top Vacation Picks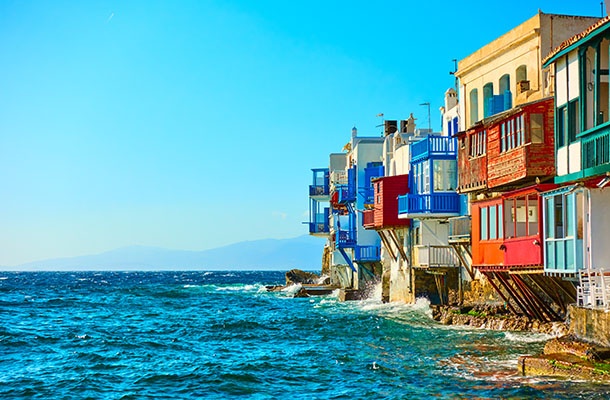 Summer vacation season is in full swing, so, we asked a few of Lawline's faculty where they most love to spend their summers. From the faraway and exotic to the (very) close to home, they had several wonderful recommendations. Check them out below - and feel free to let us know where you love to take a break from the hectic lawyer life!
"My go-to vacation spot is Tel-Aviv, Israel," says Merrill Cohen. "I love everything about it - the friendly and good-looking people, the warm and sunny weather, the fresh food, the beach, the nightlife, and hearing Hebrew spoken by Israelis. I take a place near the beach so I can hop out of bed, grab a 'cafe hafuch' or an iced coffee slushy and a bite to eat from Aroma, and head straight to the white powdery-sand beach. Towards the end of August and early-September, the Mediterranean is warm and - if you're lucky - the waves are high and lift you right off your feet - so much fun! The evenings are warm and just as fantastic, with excellent outdoor cafes everywhere, and music often wafting through the streets."
Merrill says that "each place has its own unique character and charm" in Tel-Aviv. Be sure to check out places like Neve Tzedek (among others) and the best restaurants in the city! She also notes that "Israel is a small country, and places like Jerusalem, Haifa, the Dead Sea, and Massada, are all nearby and easily accessible."
"One of my favorite summer vacations spots is the Greek Island of Mykonos. I always return home feeling inspired, relaxed and filled with wonderful memories." says Jeffrey Kimmel. "The party spirit is contagious - nightlife is taken extremely seriously by the people of Mykonos. Restaurants start getting busy at 10:00 p.m., dinners extend past midnight, and partying and dancing goes on until the sun comes up." He adds that "the food is extraordinary - so fresh and delicious. During the summer months it is always sunny. The wind sometimes gusts, but it cools you off and chases the clouds away. The sea is usually calm and cool, making for great swimming and snorkeling."
Jeffrey also notes that "for historical buffs, the nearby island of Delos is a mythical place with ancient ruins to explore." If you're headed that way, check out the top restaurants Mykonos has to offer and be sure to rest up - you'll be dancing the nights away with the locals!
"My favorite summer vacation spot was and remains the Jersey Shore," says Jonathan Goodgold. As a kid my family would go to Cape May, until they found out about Long Beach Island (LBI). I have fond childhood memories of going to the beach, mini-golfing, and the boardwalk. As I got older, reading on the beach while listening to the crash of the waves and feeling the sand on my feet was my favorite way to relax. Now as a parent, the relaxing is not part of the equation, but watching my kids play on the beach and collecting shells and exploring is the best part about the summer vacation at the Jersey Shore. I get a bit nostalgic for my childhood, but beam with pride seeing my kids enjoy the shore and the memories we create as a family."
Not a born and bred New Jerseyan? You're missing out. Head to the east coast and check out LBI staples like the Plantation and Cape May favorite the Mad Batter - and some pretty amazing beaches.
Outer Banks, North Carolina
"I've been going to the Outer Banks of North Carolina since I was a child," Steven Ramaley shares. "It has remained my favorite beach getaway - the perfect combination of sandy beaches, nature, and a superb culinary scene featuring local seafood."

Looking to get away somewhere in the states this summer? Steven isn't exaggerating - the Outer Banks (OBX) have a ton to offer. From water sports to its "essential restaurants" to some killer spas (check out Aqua or the mobile OBX Spa Squad), there is something for everyone to enjoy.
Offering up a slightly different perspective on the term "summer vacation," Raymond Monroe often opts for a "staycation." Raymond says, "Why leave D.C.? The traffic is gone, the restaurants are less crowded, and downtown terraces offer the perfect viewing spot for fireworks." While these are all great points, he does offer one additional spot: "outside of D.C., my favorite place right now is Italy, but it is too hot in summer. We go in the spring when there are fewer tourists and smaller crowds."
To follow in Raymond's footsteps, check out DC Eater's newest list of top restaurants and these amazing summer events.
Erica Martin says that her "favorite place to visit year around and especially in the summer time is Miami, Florida." She continues, "to some, it may seem 'regular,' but to me, it offers you everything that you want in a vacation spot, and it's a short flight from NYC. Miami offers culture, food, warm weather, blue waters and palm trees! You can go to small mom and pop restaurants on a dime in Little Havana and Little Haiti, or you can rent a Ferrari and go shopping at Bal Harbour before boarding your yacht for the night. Miami has something for everyone and it will always be my favorite place to vacation."
Visiting Miami? Stay in the famed Ritz-Carlton South Beach or eat at the historic restaurant, The Forge. For the culture Erica mentioned, Little Haiti's Cultural Center has a lot to offer.
"What we enjoy every summer is going on a family 'driving vacation' to places that are six to eight hours away by car. There are so many wonderful, fun and interesting places that are a day's drive from the NYC metro area! Some of our highlights have been Quebec (wonderful food tour of the old city), Montreal (great city biking tour), and Newport, Rhode Island (mansions, food, and the sunset sailing tour)," says Jill Miller, though she highly recommends "Farmington, Pennsylvania, with Frank Lloyd Wright's Falling Water, an architectural masterpiece, as well as the Laurel Caverns. We stayed at the Historic Summit Inn which has old world character and charm. It also has a really cool tree house that was built by the treehouse masters. They give tours of it - the tree house is one of a kind."
Never been to Farmington? There's a first time for everything! Enjoy five-star dining at Lautrec, located at the famous Nemacolin Woodlands resort.
Roaring Brook Lake, New York
"My favorite summer vacation spot is Roaring Brook Lake in Putnam Valley, NY. My grandfather built a house there decades ago and it is a wonderful little community," says Glenn Vallach. "It is close to NYC, but feels like you are a world away in terms of peace and quiet. And, most importantly, my two year old daughter loves swimming in the lake with her grandparents and the other kids at the beach."
Need a little "peace and quiet" away from life in the big city? Looking to take a trip to a quiet East Coast town far from your current locale? The valley has so many cute and quaint rentals to check out, along with some unique restaurants, like The Carriage House, Iron Vine, and Nick's Plate.
Whatever your summer plans, hopefully you're all getting some much-needed rest and relaxation too!