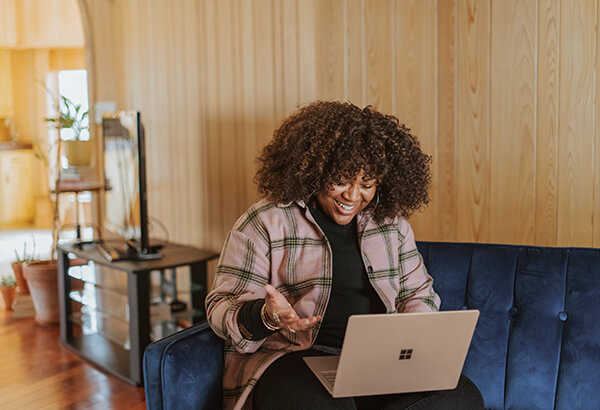 Did you know Lawline now has more than 1,700 courses available for you to watch anytime and anywhere? Not sure where to begin? Got a December 31 deadline rapidly approaching? We've got you covered. We took a look back at our most popular courses of 2021 and after sifting through the data, we nailed down the top ten most-watched courses this year. These can't-miss programs are dynamic and invigorating, and even more importantly, are geared towards helping you to succeed in your legal practice.
This list also tells us one other important thing: Lawline subscribers are committed to improving their profession and making life better for themselves and their clients. They are invested in learning the latest technology, caring for their mental health, keeping their clients safe during turbulent times, and of course, gaining the critical skills necessary to achieve success for their clients and becoming the best lawyers they can be.
Without further ado, here are the top ten courses of 2021:
Attorney Ethics & Electronically Stored Information

.

Brian Chase

, ArcherHall's Director of Digital Forensics, draws on guidance from state bars, recent e-discovery cases, and his own experience assisting attorneys in order to outline the most common risks to counsel and clients if attorneys fail to properly understand their e-discovery obligations in litigation. This program will benefit all litigators, as well as any other attorneys who encounter electronically stored information (ESI) in their practice.




Attorney Ethics & Legal Malpractice Claims in the "New Normal"

. The COVID-19 outbreak presented a host of new ethical questions and new areas of professional risks for attorneys. In this program,

Jeffrey Cunningham

of Goldberg Segalla, LLP includes a national survey of claims based on attorney malpractice and professional misconduct in the COVID era, related causes of action, and common defenses in the context of the global pandemic and the practice of law in the "new normal". By the end of the course, you'll be familiar with the most common defenses and gain a slew of best practices aimed at preventing and mitigating potential claims in the "new normal".




2021 Labor and Employment Law Update

. With a brand new administration under President Biden, a new majority on the Supreme Court, and an ongoing pandemic impacting businesses and their employees globally, employment attorneys have had a lot to keep track of in 2021. In this program,

Mary Smigielski

and

Steven Sitley

of Lewis Brisbois Bisgaard & Smith LLP provide an overview of significant new laws and trends nationally. Topics covered include 1) changes to the EEOC conciliation process, 2) questions about the status of independent contractors, 3) cannabis use and employment, 4) mandatory sexual harassment training, 5) the use of biometric data from employees, 6) the latest on COVID issues in the workplace, including mandatory vaccination requirements, workplace safety for returning employees, and COVID-related leave and accommodations policies, and finally, 7) how to navigate continued remote work concerns such as wage and hour issues, expense reimbursement, performance management, cybersecurity, trade secrets or confidential/ proprietary business information, and tax issues with different states.

Candid Camera: Ethical Strategies for Acing Virtual Proceedings

. Despite some glitches along the way, courts and lawyers have adapted to remote proceedings ranging from depositions and witness interviews to oral arguments, trials, and arbitrations, as well as dispute resolution through virtual settlement conferences and mediations. Using the ABA Model Rules of Professional Conduct and other guidelines, this program, presented by

Francine Griesing

of Griesing Law, will tackle the evolving practical, substantive, and ethical issues for practitioners and offer concrete pointers on how to be most effective in this arena.

Attorney Wellbeing & Ethics: Taking Care of Ourselves & Our Practice

. Presented by

Alyssa Johnson

, this program will benefit lawyers interested in creating a more balanced, healthy relationship with the practice of law. The program reviews the ethical requirements for lawyers, and how addressing their emotional, occupational, intellectual, spiritual, physical, and social needs helps attorneys comply with their ethical obligations. This program will provide information on substance use and mental health concerns within the legal profession, examine why lawyers are reluctant to seek out much-needed help and offer concrete steps that can be taken by lawyers and legal employers to better care for their needs.



2nd Amendment Review: Can States Regulate the Carrying of Handguns Outside the Home?

This program, presented by

Robert Rosborough

of Whiteman Osterman & Hanna LLP, will discuss the Supreme Court's prior precedent applying the Second Amendment, the prior challenge to New York's gun laws, the case that brought this important and controversial issue back to the Supreme Court, a short survey of Second Amendment precedent from around the country, and the latest arguments before the Supreme Court.

Depression: An Occupational Hazard of the Legal Profession

. This program, led by

Laurie J. Besden, Esq.

, Executive Director of Lawyers Concerned for Lawyers of Pennsylvania, Inc., addresses the alarming prevalence rates of substance use and mental health disorders in legal professionals. The course dispels the stigma associated with mental health, which is a roadblock to legal professionals reaching out for help. It provides a comprehensive overview of risk factors and symptoms of depression, compelling reasons detailing why attorneys with depression should seek help, and intervention strategies for attorneys with colleagues in need of support. Finally, the presentation outlines the confidential, free, safe, and supportive resources that are available through lawyers' assistance programs throughout the United States.

COVID-19 in the Workplace: An Updated Perspective for Employees and Employers

. It has been almost two years since COVID-19 has changed our world forever, and that includes significant impacts on the workplace. From renewed interest in physical accommodations and remote work to increased emphasis on workplace health and safety and debates about the equity of paid sick leave, COVID-19 has spurred many changes. As more and more employers open their doors, they must be mindful that COVID-19 has precipitated many changes to the way we interpret our laws and regulations. This program, presented by

Iris Halpern

of

Rathod Mohamedbhai LLC

and

Susan Gross Sholinsky

of Epstein Becker Green, will address recent changes to federal, state, and local statutes, regulations, and enforcement mechanisms, from both the plaintiff and defense bar perspectives. It will also discuss some of the novel legal issues that have accompanied reopening, and shifts to how, when, and where work is done.

Understanding the Legal Implications of Surveillance, Social Media & Spying

. Surveillance today has become commonplace so that the products of surveillance - whether physical or electronic - frequently become the subject of legal investigations and litigation. However, the rules governing surveillance are complicated and not necessarily clear. This course will provide guidance to the practicing attorney when utilizing evidence obtained from surveillance and social media profiling. This program, presented by

Wes Bearden

of the Bearden Investigative Agency, is designed to familiarize attorneys with the law surrounding physical, video, drone and electronic surveillance, GPS tracking devices, audio and video recordings, garbage pickups, undercover operatives, license plate recognition and social media profiling. The course will further predict how courts will deal with newer technologies under the current statutory and common law frameworks.

Your Home is Spying on You: How to Use Smart Device Data in Litigation

. In this fun course, faculty member

Brian Chase

(yes, also #1 on this list) reviews the data our smart home devices are storing about our activities. Brian also examines cases from around the country where this type of data has been used in litigation and teaches attorneys where to look for data during litigation and how to obtain the data once it is discovered.

BONUS COURSE:


Striving for a (Realistic) Attorney Work/Life Balance in 2021

. This course was just too important not to include. Setting and maintaining a realistic work-life balance is particularly important for attorneys. Recent studies have shown that there has been a dramatic increase in impairment due to alcoholism, addiction and mental health disorders among members of the legal profession. The statistics are compelling and clearly indicate that 1 out of 3 attorneys will likely have a need for substance use or mental health services at some point in their careers. In this informative presentation,

Brian Quinn

of Lawyers Concerned for Lawyers of PA, provides several suggestions on how to brighten your life and achieve a healthier you, both personally and professionally.
P.S. - Did you know that our unlimited subscription will grant you access to all ten of these programs and over 1,500 other cutting-edge on-demand CLE courses? Well… what are you waiting for?! Register now. Happy watching!
Related Content:
Stay up to date: receive updates on new content, promotions, and more: