Listen to This: Four Legal Podcasts Focusing on Women's Futures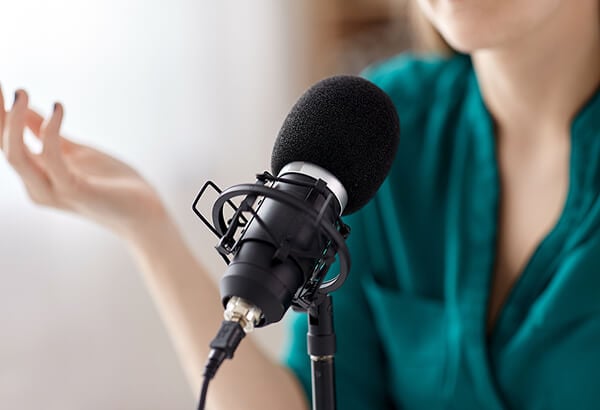 Every month, Lawline recommends four podcast episodes lawyers should listen to on a variety of topics, from substantive legal issues to managing a law practice. This Women's History Month, we listened to lots of podcasts by and for women attorneys. Check out our recommendations below:
There were many tributes to the great Ruth Bader Ginsburg last year. Her tireless work for women's rights is an enduring legacy, and her impact on the Supreme Court will inspire women and girls for generations to come. In Dahlia Lithwick's memorial podcast for the late great RBG, she discusses some of Ginsburg's lesser-known opinions with former clerk Gillian Metzger. They cover RBG's love of federal procedure cases, her commitment to recognizing how SCOTUS decisions impact people in the real world, her history as an advocate for women, and what she would want women attorneys to do to honor her legacy: keep fighting.
On the Heels of Justice podcast, hosts Sarita Venkat and Katherine Minarik interview trailblazing women attorneys. In this episode, Judge Ann Claire Williams, the first Black woman appointed to the U.S. Court of Appeals for the 7th Circuit and the founder of the Public Interest Fellowship Program for Equal Justice Works, among other groundbreaking accomplishments, talks about her early law career (she went to law school on a dare), being a Black AUSA during the height of the War on Drugs, and her pioneering work promoting access to justice worldwide.
In this episode of the American Health Law Association's podcast, Goodwin partner Delphine O'Rourke speaks to Roberta Liebenberg and Stephanie Scharf about their work documenting the experiences of women lawyers through innovative surveys (Stephanie has a Ph.D. in behavioral science in addition to her J.D.). They discuss the reasons experienced women attorneys leave the legal profession, the business case for diversity initiatives (did you know that 70% of female partners win their cases?), and what law firms need to do to make sure they retain and promote female attorneys - business development, origination credits, and succession planning being key factors. They also discuss the impact of COVID-19 and strategies for women lawyers to self-advocate.
BONUS: Delphine O'Rourke, Roberta Liebenberg, and Stephanie Scharf are all Lawline faculty members. Be sure to watch their groundbreaking CLE courses too - Critical Legal Considerations for Healthcare Providers Responding to the Coronavirus Pandemic and How to Maintain Inclusivity for Law Firms in a Remote Environment.
Women in the Law: On the Record is a podcast by Greenberg Traurig associate Allison Stewart, where she interviews successful women lawyers to learn how they got to where they are, what lessons they have learned along the way, and what they are doing now. In this episode on business development, she speaks with several leading women attorneys, including Amy Tu, Chief Legal Officer of Tyson Foods, Catherine MacDonagh, Founder of the Legal Lean Sigma Institute, Kristin Ng, a Greenberg Traurig shareholder, and Ava Farshidi, General Counsel at David Yurman and founder of Avocate, a mentorship program that connects women attorneys with women law students. The panel discusses the heart of business development: creating relationships. The advice and anecdotes they share provide practical insights into personalizing your cold calls so that you can make a better first impression, maintaining relationships until the time is right to work together, and supporting junior attorneys in their business development.
Stay up to date: receive updates on new content, promotions, and more:
Related Content: