Pride in their Practice: Five LGBTQ+ Legal Pioneers You Should Know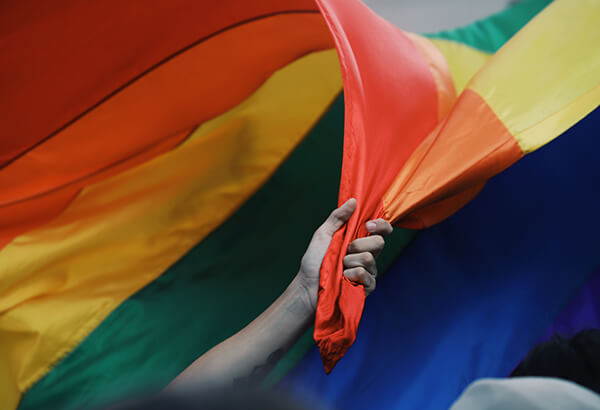 Although LGBTQ+ rights have come a long way in the U.S., it was not long ago that being gay was criminalized in many states, and being a LGBTQ+ attorney was akin to career suicide. Even in a post-Bowers and post-Obergefell world, openly LGBTQ+ attorneys account for less than 3% of the profession. And while marriage equality is the law of the land, lawmakers in 2021 have already passed over 100 pieces of legislation preventing trans people from accessing healthcare, bathrooms, sports and more. There is a lot of work to be done, though we have made some progress along the way.
This progress would not have been possible without the tireless advocacy and efforts of the LGBTQ legal pioneers who advocated for fairness and equality in the U.S. and within the legal profession. Read about just a few of these trailblazing attorneys below:
Barbara Charline Jordan was an outsize figure in politics and the fight for civil rights. Her passion for politics ran in her family - her maternal grandfather was one of the last Black state representatives in Texas prior to mass disenfranchisement under Jim Crow, and her mother was known for her public speaking skills. In law school, she was a champion debater, winning against teams from Ivy League schools. She turned towards a political career after law school while working on the JFK presidential campaign, where she organized a successful get out the vote effort in Houston's Black communities. In 1966, Barbara became the first Black state senator in Texas since Reconstruction. In 1972, she became the first woman to represent Texas in the House of Representatives, and the first Black congresswoman from the South. She was a fearless advocate for civil rights, and was known for impassioned speeches that changed hearts and minds. Although she was not out publicly during her political career, she did have a long time domestic partner, Nancy Earl, and her work paved the way for the LGBTQ+ politicians who came after. She passed away in 1996.
From his early career as a trial lawyer with the DOJ and his advocacy for migrant workers in California, to his tenure as New York City Commissioner of Human Rights, and the decades he spent as Executive Director of the Latino AIDS Commission, Dennis deLeon was a fierce advocate for justice who loved working in public service. In 1993, he made the brave decision to come out publicly as HIV positive, contributing to greater visibility for people with AIDS. In his time with the NYC Human Rights Commission, he helped investigate and end discriminatory housing, employment, and healthcare policies. In his role with the Latino AIDS Commission, he helped create a library of Spanish language resources for people with AIDS, and was known for his successful coalition building with other communities of color fighting the AIDS crisis. He passed away in 2009.
Carrington Boggan was one of the founders, along with Bill Thom, of the critically important LGBTQ advocacy organization Lambda Legal - which was originally denied its application for incorporation because it was "neither benevolent nor charitable". As general counsel of the newly formed Lambda Legal and the first openly gay attorney to argue before the New York Court of Appeals, he filed an amicus curiae in Matter of Kimball, a case which allowed an attorney who had previously been disbarred for being gay to be admitted to practice in New York. He also won reinstatement for two Air Force and Navy veterans who had been discharged for being gay. Additionally, he successfully litigated a federal suit granting gay students the right to assemble on a state university campus, and he outlined some of his groundbreaking strategies in the law review article Securing Gay Rights through Constitutional Litigation. He passed away in 1992.
In her early career, before she became the first openly transgender judge in the U.S., Judge Phyllis Frye struggled to find employment. She became an attorney in 1981 and didn't start practicing full time until 1986, when she took a case for a closeted, gay man in the military who received a DWI while walking out of a gay bar and wanted to keep it out of the newspaper. After that, she ran her own private practice, representing many members of the LGBTQ+ community. In the 1990s, she started the International Conference on Transgender Law and Employment Policy, working with other trans lawyers and activists to write policies and strategize around their advocacy. Later in her career, she handled many name changes and discrimination claims for her trans clients. As a Judge in the municipal courts of Houston, Texas, she primarily handles traffic offenses, but the legacy of her fearless advocacy is felt all over the country.
Named by Out Magazine in 2009 as one of the 50 most influential LGBT people in the U.S., Urvashi Vaid has done amazing work advancing LGBTQ+ issues in politics for over three decades. While still in law school, she started the Boston Lesbian/Gay Political Alliance, an organization that interviews and vets political candidates and advocates for LGBTQ+ issues. Her career has taken her from the ACLU's National Prison Project, to various positions with the National LGBTQ Task Force, to the Engaging Tradition Project at Columbia Law School's Center for Gender and Sexuality Law, and beyond. In 2012 she founded LPAC, the first lesbian Super PAC. She has written several books, including Virtual Equality: The Mainstreaming of Gay and Lesbian Liberation and Irresistible Revolution: Confronting Race, Class and the Assumptions of LGBT Politics.
Of course, these were just a few of the many brave attorneys who fought for the rights we have gained, and paved the way for the work still to be done. To learn about the amazing work young LGBTQ+ attorneys are doing to change the world now, check out the LGBT Bar's annual 40 Best LGBTQ+ Lawyers Under 40 list.
Related Content: