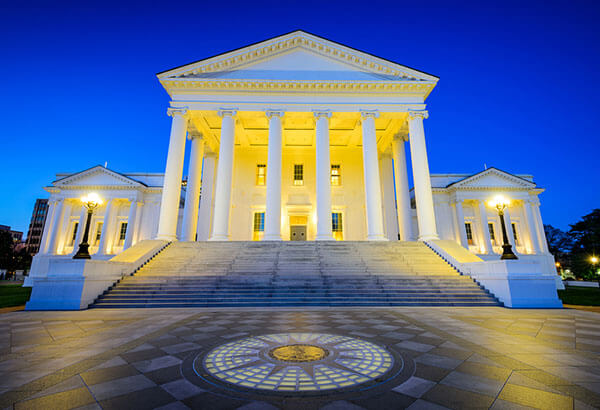 What is the Virginia CLE requirement? 12 credits every year. At least 2 of the 12 must be in Ethics or Professionalism, but the remaining 10 can be in any credit category.
How can I complete the Virginia CLE requirement? Through a combination of On Demand video or audio courses, as well as Live Webcasts. At least 4 of the 12 credits have to be done through a live format, while the rest can be done asynchronously.
When do I have to complete everything? October 31. All attorneys in Virginia need to complete their full CLE requirement by October 31 each year or else incur a $100 noncompliance fine. (Spooky!)
How do I know what I still have left to complete? Keep tabs for yourself as you take CLE courses to make sure you're completing enough of everything. Maybe you took 12 hours' worth of CLE, but didn't take 4 of them in a Live format, or only took 1 Ethics credit. You can use Lawline's credit tracker to stay on track.
What if I took extra CLE credits last year? You can carry over up to 12 excess credits earned from one reporting period to the next, including up to 2 Ethics or Professionalism.
What do I do after I complete my courses? Virginia attorneys have to report their earned credits to the Virginia State Bar. Simply log onto the Member Portal on the VSB website and submit your course completion information - the approval number of the course, the date you took it, etc.
After the CLE deadline passes, Virginia will send you a year-end report listing out all the courses currently on your transcript. If it looks good to you, great! No need to file anything further. But if anything is missing or inaccurate, file your updates with the MCLE office to avoid late fees or suspension.
When do I have to submit all of my compliance information? December 15. Be sure to have everything finalized and submitted by 4:45 PM Eastern, or you could incur a $100 late filing fee. If you still don't have your CLE credits reported by February 1, you'll get hit with an additional $100 late fee. Virginia does have a process for filing for a waiver or an extension for good cause, such as a medical condition or hospitalization, so get in touch with them directly if you think you qualify!
What if I don't complete my CLE in time? In addition to the fines as noted above, your license could be suspended. According to the Virginia State Bar, "(a)n active member who fails to comply with the educational and certification requirements of the Rule and these regulations, including payment of any required fees, and has not obtained a waiver or extension for good cause shown by December 15 of each year, shall be subject to suspension of such active member's license to practice law…"