Brush Up on Landmark Moments In Women's History This Women's History Month
In 1987, Congress designated that March the very first "Women's History Month," after repeated petition by the National Women's History Project. Over three decades later, Women's History Month is still going strong - and women are stronger than ever. While there have been many milestone moments for the women's movement over the years, here are eight landmark moments in women's history to brush up on: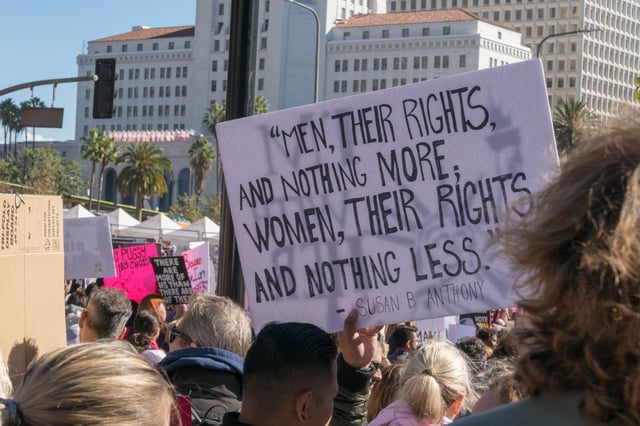 1869: The Suffrage Movement Kicks Off
Susan B. Anthony and Elizabeth Cady Stanton founded the National Woman Suffrage Association to protest for the right to vote in 1869. The territory of Wyoming became first in the United States to grant women full voting rights, and by the beginning of the 20th century, the number of states giving women suffrage began to rise. In 1919, women had full voting rights in 15 states and partial rights in 20.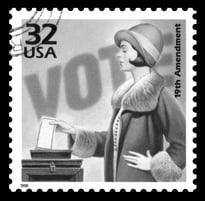 1920: Lucky Number 19
72 years after the movement began, women were granted the right to vote with the passage of the 19th Amendment. Finally!
1965: The Mother of Title IX
Do you know her name? You should. Patsy Mink was the first Asian-American woman and first woman of color elected to Congress, representing the state of Hawaii in the House of Representatives. She was also the first Democratic woman to deliver a response to the State of the Union in 1970 and the first Asian-American to seek the presidential nomination of the Democratic Party in 1972. Also known as the "The Mother of Title IX," she was its principal author; in 2002 it was even renamed the "Patsy T. Mink Equal Opportunity in Education Act" in honor of her passing.
1971: The National Women's Political Caucus
The Caucus, founded by Gloria Steinem, Bella Abzug, and Betty Friedan, worked tirelessly on behalf of women's issues after Congress failed to pass the Equal Rights Amendment in 1970. Now, the organization prides itself on being "the only national organization dedicated exclusively to increasing women's participation in all areas of political and public life - as elected and appointed officials, as delegates to national party conventions, as judges in the state and federal courts, and as lobbyists, voters and campaign organizers." The women who founded the Caucus were all wildly impressive and successful in their own right. Steinem founded Ms. (also in '71) and it was heralded as a revelation. Betty Friedan wrote the groundbreaking The Feminine Mystique in 1963, and "Battling Bella" Abzug served three terms in Congress for the state of New York, running for the House with the now well-known slogan "This woman's place is in the House… the House of Representatives!"
1981: A Brighter Day
Sandra Day O'Connor became the first woman appointed to the Supreme Court in 1981. At the time, just six percent of all federal judges were women. Though she was a graduate of Stanford Law, she initially had trouble getting hired by firms in San Francisco and Los Angeles because she was a woman. Reflecting upon her appointment by President Reagan in a commencement speech at Stanford, she stated, "His decision was as much a surprise to me as it was to the nation as a whole; but Ronald Reagan knew that his decision wasn't about Sandra Day O'Connor; it was about women everywhere. It was about a nation that was on its way to bridging a chasm between genders that had divided us for too long."
2002: And the Award Goes to…
Halle Berry was the first African-American woman to win the Oscar for Best Actress in Monster's Ball in 2002 - nearly fifty years after Dorothy Dandridge became the first African-American woman to be nominated in that category (or any other major category). "This moment is so much bigger than me. This moment is for Dorothy Dandridge, Lena Horne, Diahann Carroll. It's for the women that stand beside me, Jada Pinkett, Angela Bassett, Vivica Fox," said Berry. "And it's for every nameless, faceless woman of color that now has a chance because this door tonight has been opened. Thank you. I'm so honored. I'm so honored."
2003: A Billion-Dollar Empire
Who doesn't love Oprah Winfrey? The beloved public figure became the first African-American woman to be featured in Forbes' annual report when she made the publication's list of billionaires back in '03. An icon of success for women everywhere, Oprah's creative talent and exceptional business savvy make her a true force to be reckoned with. If the future of women is one filled with more Oprahs, that future is bright. Need more? Check out a whole list of amazing women and their accomplishments in entertainment.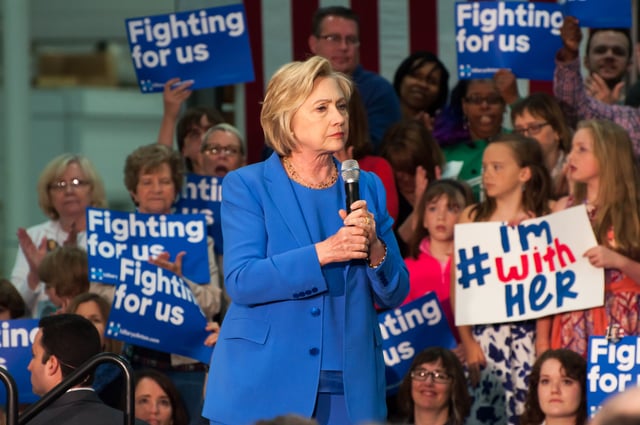 2016: A Crack in the Ceiling
In 2016, former First Lady, U.S. Senator, and Secretary of State Hillary Clinton became the first woman ever to be nominated to the Presidential ticket by a major political party. Nearly 150 years after the suffrage movement a woman came thisclose to the Presidency. Results aside, the nomination in and of itself was groundbreaking. Said Lucia Graves of The Guardian back in June of 2016: "Let's be clear what the Democratic nomination means. The feminist movement that has been remaking American culture - and more slowly, its politics - just put a crack in the highest, hardest ceiling of all."
2017: The Women March On
In the largest March on Washington on record, women took to the streets in January 2017. Said 60's queen and aforementioned leader of the movement, Gloria Steinem, "This is the upside of the downside. This is an outpouring of energy and true democracy like I have never seen in my very long life. It is wide in age. It is deep in diversity."
Looking for more awesome and strong women to tune into in your downtime? Check out the short-lived series Good Girls Revolt (about the real-life Newsweek lawsuit), the Hulu show The Handmaid's Tale, based on the book by Margaret Atwood, the groundbreaking HBO series Insecure, and a personal favorite, the OG feminist role model, Buffy the Vampire Slayer.
You can also watched our newest selection of women's rights programs in honor of International Women's Day, including 2018 Trends in Reproductive Rights Law and The Pregnancy Discrimination Act at 40: Current Interpretations, Trends & Predictions. Find even more here!
Share
Author Bio
Written by Shaun Salmon
Shaun is the Director of Content at Lawline. She holds a JD with a certification in Intellectual Property/Entertainment & Sports Law from Seton Hall Law and is admitted to practice in New York and New Jersey. In her free time, she coaches a high school dance team and choreographs the school's musical. She is also a passionate advocate for animals and strives to cultivate Animal Law programs, among her other endeavors with the company.
Related Posts
Subscribe to receive Blog updates
Recent Posts